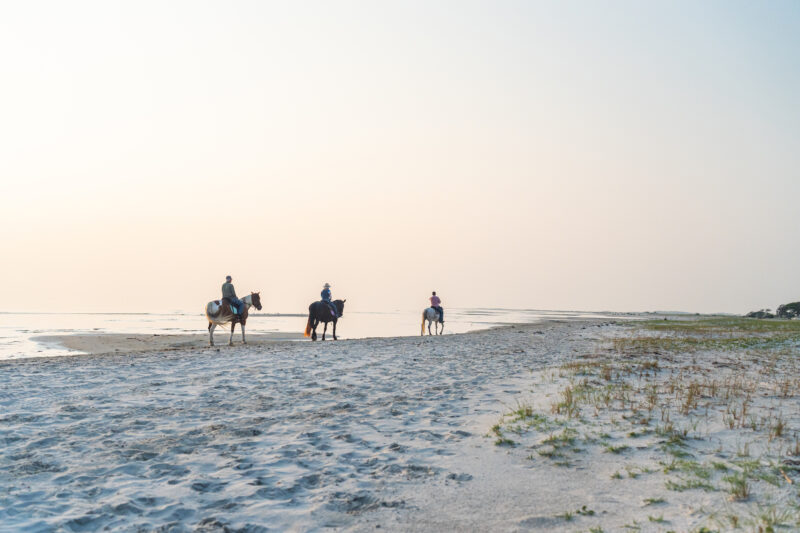 Take an adventure of a lifetime on a horseback ride on our pristine beaches! On the back of a horse is a great way to take in our beautiful shoreline and search for the wild horses and cattle that roam our islands. Sunset and sunrise rides are even more unique, but any journey proves to make for an unforgettable memory.
The Stables at Cedar Island Ranch offer an absolute must-do activity on your vacation. With a unique beach and wilderness experience for horse enthusiasts from all over the world, our stables provide an exclusive experience for horse rides on the Pamlico Sound beaches. This undeveloped and pristine beach has spectacular views along the coast and miles of virtually untouched land to explore. Search for the majestic Outer Banks Wild Spanish Horses; they have roamed these areas freely for centuries. The horses are a protected herd that travels throughout the islands and are frequently at our beach.
Our horseback rides showcase the natural beauty of the coast of Pamlico Sound. You will ride along the water's edge in the sand. You may have the opportunity to witness wild horses, marine wildlife such as dolphins, sea otters, seabirds, free-range cattle, and different species of saltwater stingrays, or fish. Our 90 minute rides will feature amazing 1,000 foot water crossings between Cedar Island, Ship Shoal Island or Hog Island, with beach trail riding. We offer one hour, one and a half hour, as well as private rides Tuesday through Sunday all year round at The Stables of Cedar Island Ranch.
Ride lengths are approximate only.
By appointment only. We do rest our animals on Mondays.
All of the guides are experienced horse wranglers who pride themselves on horse and rider safety. The safety of our guests is our number one priority! Our horses are well seasoned and will be matched to your riding ability. We typically take three rides in the mornings and two in the evenings because those are the coolest parts of the day, and because the horses need to rest during other parts of the day. Other Stable Programs and Events:
Private or group rides are offered for an additional fee year round by appointment. Call 252-650-8050 for further details.

You can bring your own horse to ride the beaches. We now offer the ability to ride on your own throughout the beaches, crossing large channels of water separating the islands and searching for the wild Spanish horses. Short term outdoor boarding at the barn where your horses can stay overnight is also available. Paddocks are 12×12 and are separate from our horses. If you stay in the campground we can have you in a space that is near or even in sight of your horses whenever possible. Rates vary for different times of year. Motel rooms or condos are also available on site for those who want to stay and play. For a detailed explanation of the program or to make a reservation please call 252-650-8050.

Do you have a special event? Let us turn your ride into something special.  Call for details and we will do everything we can to make a special and unique experience for you. 
Book a once in a lifetime ride today! Advanced reservations are required. Call for more details or to make reservations at 252-650-8050.
Stable Hours
Monday: Closed
Tuesday – Sunday: Please contact the Riding Stables for hours and reservations at 252-650-8050.