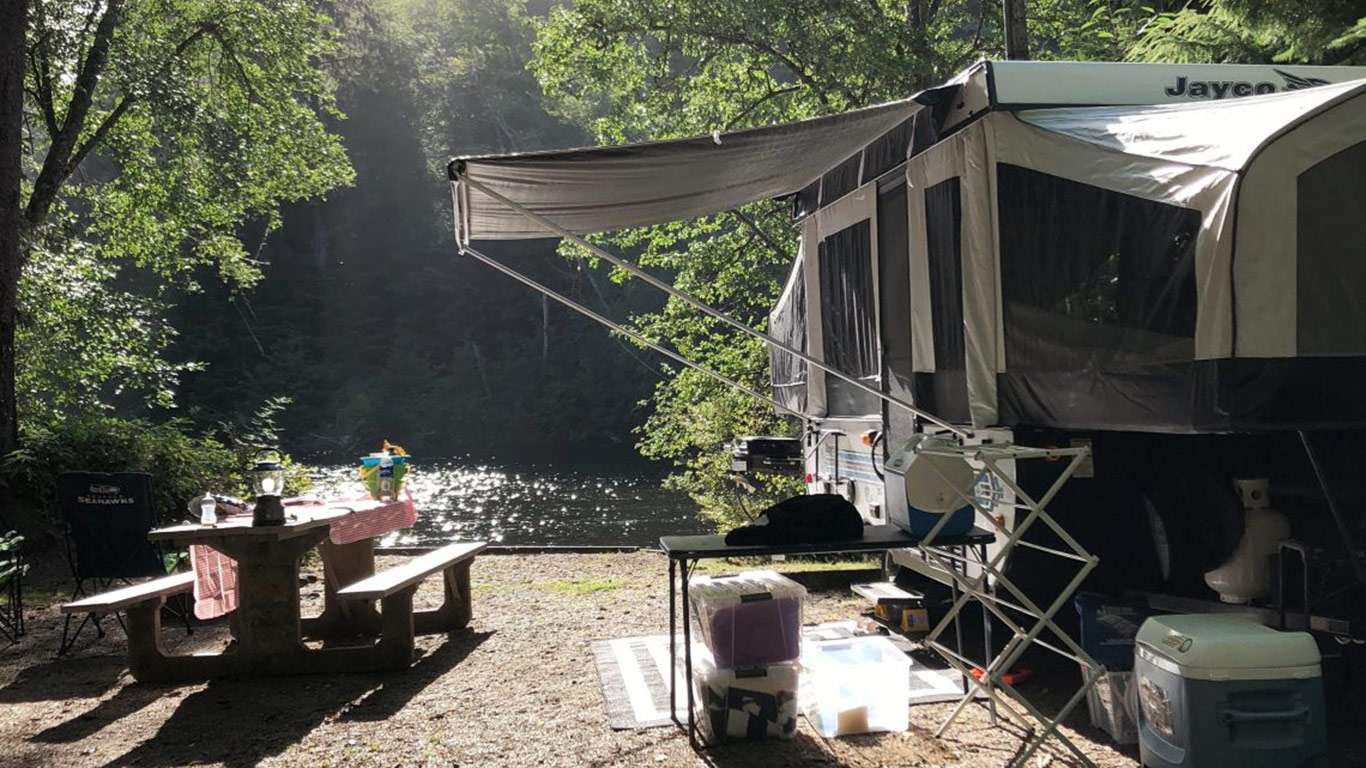 Grilling can add both fun and practicality to RV life, so selecting the ideal grill requires careful consideration of several factors. First and foremost is how often you and your camping crew will use it. Secondly, you'll want to choose a grill that meets the needs of your lifestyle, such as portability.
Depending on how many people will be at your destination, a small grill may do just fine for individual or couple use; for group travel though, larger models with enough cooking space for everyone would be needed.
Types of Grills
There is an assortment of grills to choose from, so it is essential that you carefully consider how you plan on using yours. Are you in search of something hot enough to sear steaks quickly, or maybe something more suitable for smoking and low-heat cooking?
Gas grills are popular due to their ability to provide versatile, high-heat cooking with ease. You can find both liquid propane and natural gas models of these grills; liquid propane units utilize easily refillable small cylinders while natural gas models connect directly to an existing gas line for maximum convenience.
Portable grills are great for camping trips or tailgating events as they're easily set up and taken down, as well as being easier to clean than charcoal or pellet grills since they produce no ash. But they may have limited heat output and typically smaller dimensions compared to larger charcoal or gas models; making portables an excellent solution if space constraints are an issue.
Must-Have Grill Features and Accessories
RV grills have various features and accessories designed to make cooking easier and more convenient, such as grease pans that collect all the oil and debris produced during food prep. Some models even have built-in thermometers so you'll know when your dish is finished cooking!
Portable charcoal grills offer another viable option, but require more effort to get going and maintain temperatures. As they require open flames for ignition, they cannot be used in forests and national parks that impose burn bans, so keep that in mind if you plan on staying in national parks. Electric grills provide steady energy without using up fuel supplies, making them an excellent way to cook anywhere while remaining comfortable with an open flame.
Depending on which grill you choose, there is a seemingly endless array of grill accessories. You'll definitely want a sturdy, quality pair of grill tongs, a steel flipper, and a good scrubber to clean up the grill afterward.
Grilling Tools You'll Love
The best RV grills feature convenient accessories that make cooking and cleaning simpler, making an RV lifestyle much simpler. Many of these units are user-friendly while taking up minimal space – both essential features for optimal RV living.
Some RV grills feature storage spaces to store all your tools together in one handy spot and are usually lightweight yet made from sturdy materials – enabling easy movement around campsites without damaging your RV space.
Another feature we appreciate about many gas-powered grills is the ability to work off of your RV's own self-contained propane gas system, making it more suitable when camping in areas with burning bans. Furthermore, this model is simple to set up and ready for use right out of the box; featuring an ignition knob and burner with 12,000 BTUs for cooking meals quickly and efficiently.
How to Keep Your Grill Clean
When selecting an RV grill, it's also essential that it be easy to keep clean. Avoiding the build-up of grease and food residue on grates or surfaces that could result in corrosion, poisons, or fire hazards is of utmost importance.
As such, many rig owners prefer charcoal grills over gas or electric models for outdoor cooking. Portable charcoal grills offer more organic and smoky flavors. Unfortunately, charcoal may be less suitable in environments that restrict open flame use or feature restrictions on outdoor cooking, such as parks and campgrounds with an open fire ban.
To keep your RV grill looking its best, use a nonmetallic scrub brush or scouring pad with soft bristles to scrub away food or grease residue accumulated on grates or surfaces, such as lids. Once this step has been completed, follow it with stainless steel cleaner to wipe down all surfaces, including lids.