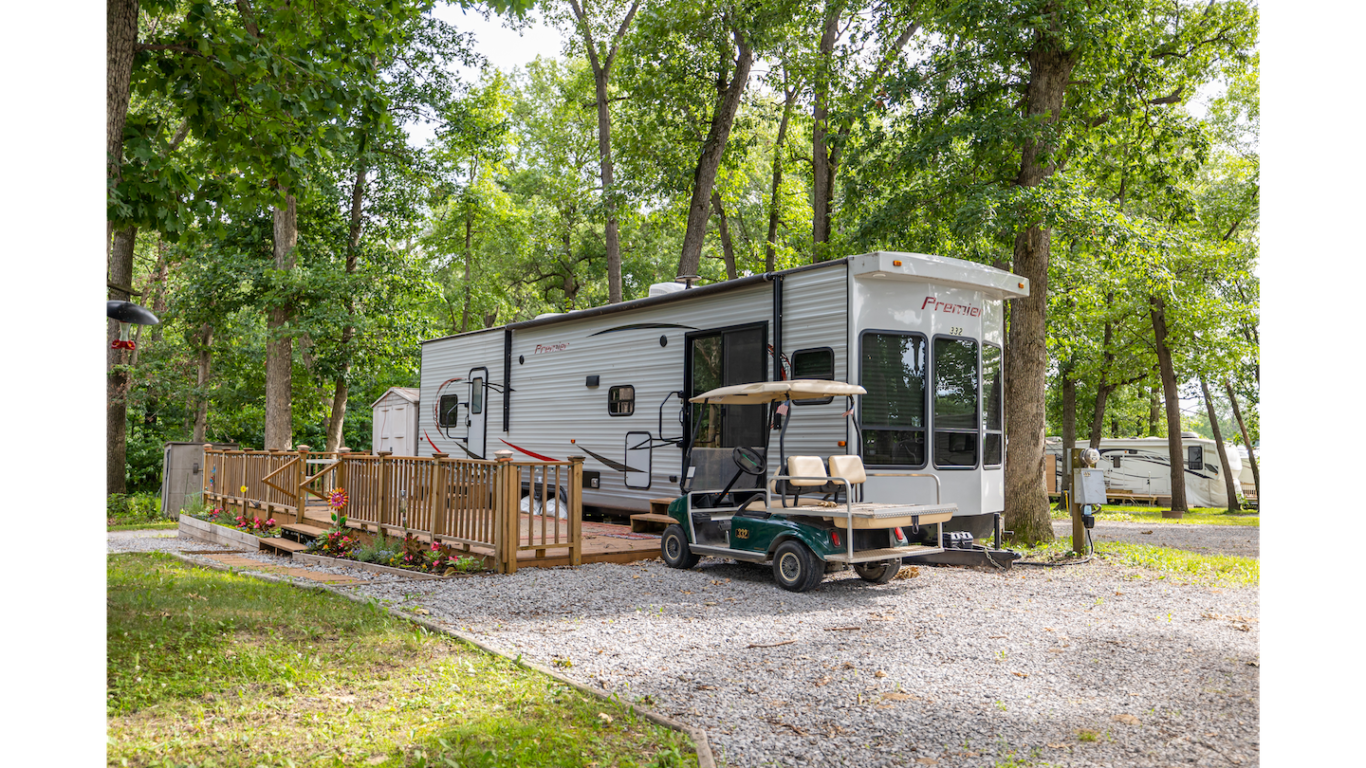 RVs provide a convenient means of travel, but their small spaces may make you feel cramped. By employing clever decorating strategies, you can make your RV feel larger.
Simply decorate your RV walls with a neutral-colored wallpaper for an easy way to add color that adds space. Additionally, peel-and-stick tile backsplash can add a fun flair in both kitchen and bathroom areas.
Install Light-Colored Window Treatments
Many RVs feature dark curtains and valances that may be tiring on the eyes, however, changing these items is an easy way to open up space in your RV.
Blackout curtains such as a buttery cream fabric will block out sunlight to create an atmosphere when it comes time to dim your lights.
Add a rug to the floor of your RV to make it cozier and more welcoming; be sure to select a low-pile rug so it is easier to keep clean.
Have Hidden Storage Areas
RV living quarters can make it challenging to balance style with functionality, but with some creativity, you can make your home-on-wheels both cozy and practical.
Hanging shoe organizers on closet doors is an easy and effective way to organize shoes and keep them from littering the floor, perfect for keeping closets clutter-free in the RV or travel trailer. This tip works just as effectively in other rooms too!
RVs typically feature pockets of extra storage space on the backs of room and cabinet doors that could be better utilized – use these areas to add pocket caddies for bathroom items or Command adhesive hooks in the kitchen to hang utensils for use later.
Add extra storage solutions to the walls and cabinets of your temporary residence to make it more welcoming, keeping things from becoming disorganized while creating more visual space. This will prevent things from getting disorganized over time and give an added sense of space visually.
Make More Use of Lighting
One of the best RV decorating tips is making more effective use of lighting. Doing this will help avoid that harsh fluorescent look while creating an inviting atmosphere in a tight space.
Lighting up your RV can make it feel larger, so investing in some additional light fixtures may also help make your space seem larger. There is a wide selection of RV lights on the market that run off battery power such as battery-operated fairy lights.
Refresh your RV quickly by painting the cabinets. Select a shade that complements its overall decor scheme or opt for something vibrant and eye-catching – the sky's the limit when it comes to choosing colors!
Decorate Your RV with Light and Cool Colors
Add vibrant hues to your RV to create an inviting space, such as throw blankets, accent pillows and rugs!
RVs typically feature plain Jane window valances that make your RV less attractive; replacing these is an effective way to add flair. Furthermore, lightweight wall decor like maps or floral prints that can easily be taken down is also a great way to personalize your space.
Many RVs have limited storage spaces that quickly become disorganized. Luckily, there are some exciting accessories that can help maximize storage while remaining organized – for example, a wall-mounted coat rack doubles as an excellent place to hang purses or keys, or drawer organizers for holding silverware and cooking utensils.
An additional way to increase storage in your RV is using pegboard or wire wall grids in the bedroom and living room spaces to hang decorative items like hats, scarves, and purses – creating an intimate and homey space that makes you feel more at ease.
Install Mirrors on the Walls
RVs typically come equipped with plain, standard fixtures and finishes that lack personality, making them easy to customize with just a bit of creativity and effort.
Add mirrors to the walls in an RV to make the room seem larger and add visual interest as well! They make spaces feel brighter while making for beautiful decor!
Be sure to inspect the wall type prior to hanging a mirror. Most modern homes use drywall while older properties may feature plaster walls – if this applies to your RV, consider using moly bolts instead.