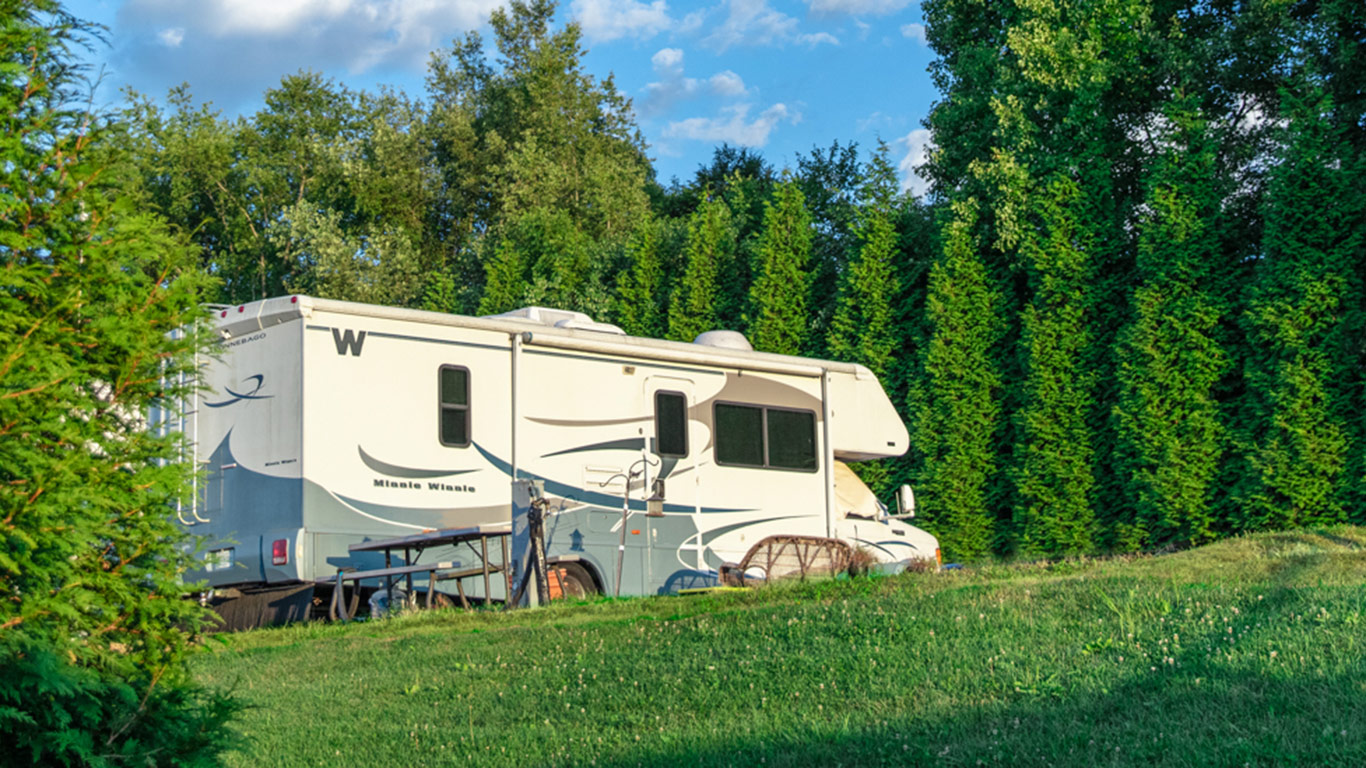 Many RVs sport a generic color scheme, but adding some unique details can really personalize it and create an inviting area to give the entire RV an intimate, homey vibe.
Smart ambient mood lights can help set the ideal atmosphere in the evening when everyone's ready to settle in for movie or game night.
Create a Cozy Outdoor Space
If you want your RV to feel more like home, make the exterior cozy too. This can mean something as simple as placing an outdoor rug underneath your awning, or taking it a step further like installing custom shelving designed specifically for your RV.
If your RV's walls are barren, try hanging some colorful posters or family photos to add personality and personalization. Just be sure to use lightweight decor so it will survive bumpy roads!
Homemade RV wall art can help transform an uninviting space into an inviting one; all it takes are some lightweight posters or family photographs in frames hung on sturdy shelves that can easily be stored during travels. Using command hooks or museum putty are other great alternatives that won't damage wires in the walls.
Decorate Your RV with Rugs
Fabrics add warmth and coziness to your RV. Throw blankets, kitchen rugs, and runners all bring colors and warmth into the mix.
RVs typically feature a neutral earthy palette, so adding pops of color with decorative pillows or pillowcases can liven things up and extend their life. Seasonal changes allow for seasonal customization while covers can protect and extend your furniture's life span.
String Up a Hammock
If your RV offers enough room, stringing up a hammock can create an inviting homey space where people can relax, read or play games with the family. It provides the ideal place for relaxation!
Travel is also an enjoyable way to commemorate holidays and special occasions on the road – whether that means Christmas lights, Halloween decor, or 4th of July banners, decorating as you would at home is no problem at all!
Plants are another easy way to transform an RV into home. There are even artificial varieties that will last long!
This and That
An organized RV can make travel much less of an undertaking. Consider investing in storage solutions such as wall-mounted organizers that make keeping everything tidy and easy to find.
Aromatherapy is all the rage and for good reason. Incorporate scents that you adore into the room – perhaps choosing delicately fragrant plants to fill the air with soothing aromas.
Find Unique Lighting Options Inside and Outside Your RV
Lighting elements in an RV can help make it feel more like home. These include surface, puck and stick-up lights which are easy to install and help relieve eye strain.
Area porch and awning lights provide both practical and decorative illumination. There are so many different energy-saving indoor and outdoor string lights to liven up your RV area. Get creative and shop online for RV-friendly lights. This article from Blisslights offers some amazing ideas.
Cook Your Favorite Meals
RV travelers often refer to their vehicle as their "home on wheels." By adding simple touches such as a good gourmet meal, an RV can feel more inviting.
Choose colorful dinnerware in fun patterns or colors to complement the interior decor of your RV, such as this comfort-food ground beef casserole recipe that works well with camp kitchens and travel.