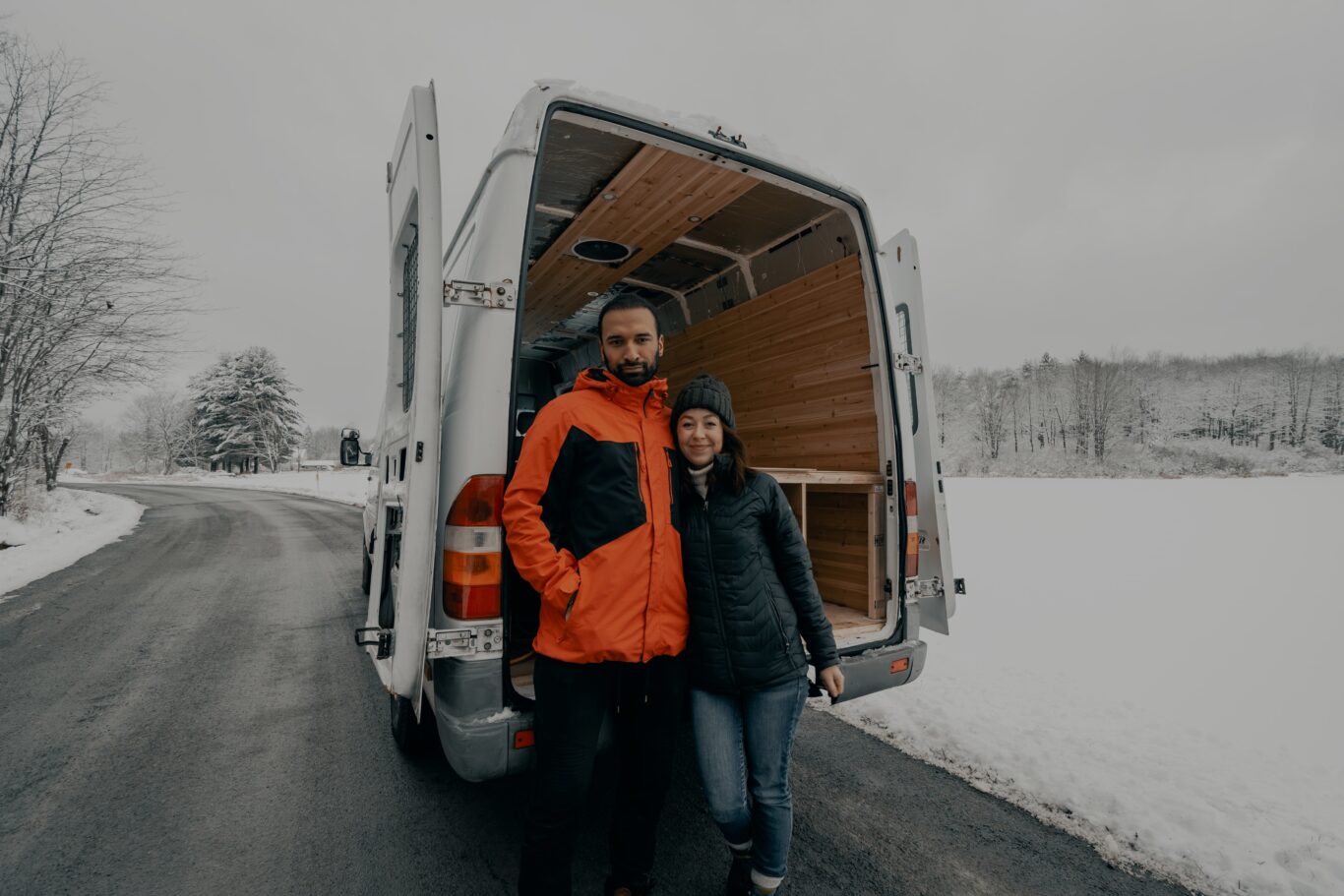 Just because cold weather is setting in in Northern Michigan does not mean you should give up your camping plans. In fact, camping in late fall and throughout the winter is actually a lot of fun. There are just a few things to keep in mind, and we're here to help you make your winter camping adventures fun and worry-free.
To make sure you stay safe, it's important to do just a little extra planning, preparation, and adding a few things to your RV.
Extra Clothes
This goes without saying, but it helps to put some thought into this. If you plan to do any special outdoor activities during your RV camping trip, you'll want to bring cold-weather clothing you may not normally wear.
A good warm base layer, moisture-wicking tops and bottoms, and waterproof rain gear are essential if you are doing any outdoor activities like hiking or fishing. Extra coats, sweatshirts, warm socks, hats and gloves should be packed for every member of your camping party.
Snacks
Everyone loves a good road trip snack selection, so get your crew together and ask what they like (and don't like). Even if you have an aversion to eating in the car or RV, it's a good idea to have individually-wrapped energy boosters such as protein bars, packs of trail mix, jerky, and dried fruit.
They are portable, have a pretty good shelf life, and will give you the sustenance you need to make it through those long-haul drives without having to go through an unhealthy drive-through for your meals. And don't forget to bring plenty of water!
Blankets
For every person in your group, pack an emergency blanket made of foil Mylar. They are inexpensive and take up very little room, but are exceptional at reflecting body heat. You can find them online and in most sporting goods stores. Some cost as little as a couple of dollars.
Jumper/Booster Cables
This really should be in your RV and car tool kit all year round but is especially good to have during colder weather. Extreme weather can kill your battery faster than normal. Everyone who drives a vehicle should know how to safely operate a set of jumper cables.
Emergency Distress Flags and Flares
If you do end up stranded on the road, you will want to have other drivers and/or emergency personnel see you. Emergency flares and distress flags are something you should always have in the trunk of your car and in your RV. Having a flare can be beneficial for starting a fire for heat, and a distress flag so people can see you are good for carrying along if you need to do some walking along the road to get assistance.
Flashlights and Batteries
Essential for any survival kit is at least one flashlight with fresh batteries, along with one or more packs of extra batteries. Flashlights can be used for an endless array of situations, from lighting your way at night to getting in to see dark, tight spaces, or even to signal for assistance. When shopping for a good flashlight, get one that can withstand constant use and harsh handling. Don't get a wimpy one that breaks easily or peters out on you after just one or two trips.
Bottled Water and Emergency Food Rations
If you plan on traveling through remote and rural areas, if you get stranded for a few hours or several days, you'll need to eat. With no grocery stores or restaurants for untold miles, having a few days' worth of food and water for every member of your party is essential. When gathering your food ration supply, choose shelf-stable items that are calorie-dense, such as protein and granola bars. Essentially anything you do not have to heat to eat.
Same is true for water. Bring drinkable water, and don't rely on melted snow to keep you hydrated. Snow often contains pollutants and is generally not safe to consume. And even if you are not thirsty, your body uses up much more heat and calories when it's cold, and you can become dehydrated without knowing it – so be sure to keep drinking water no matter what.
Other Considerations
Always carry tire chains, a small shovel, kitty litter for creating traction, and a tow chain or rope. And if you're traveling with children, make sure you have extra food, books, games, and diapers and wipes for the babies.