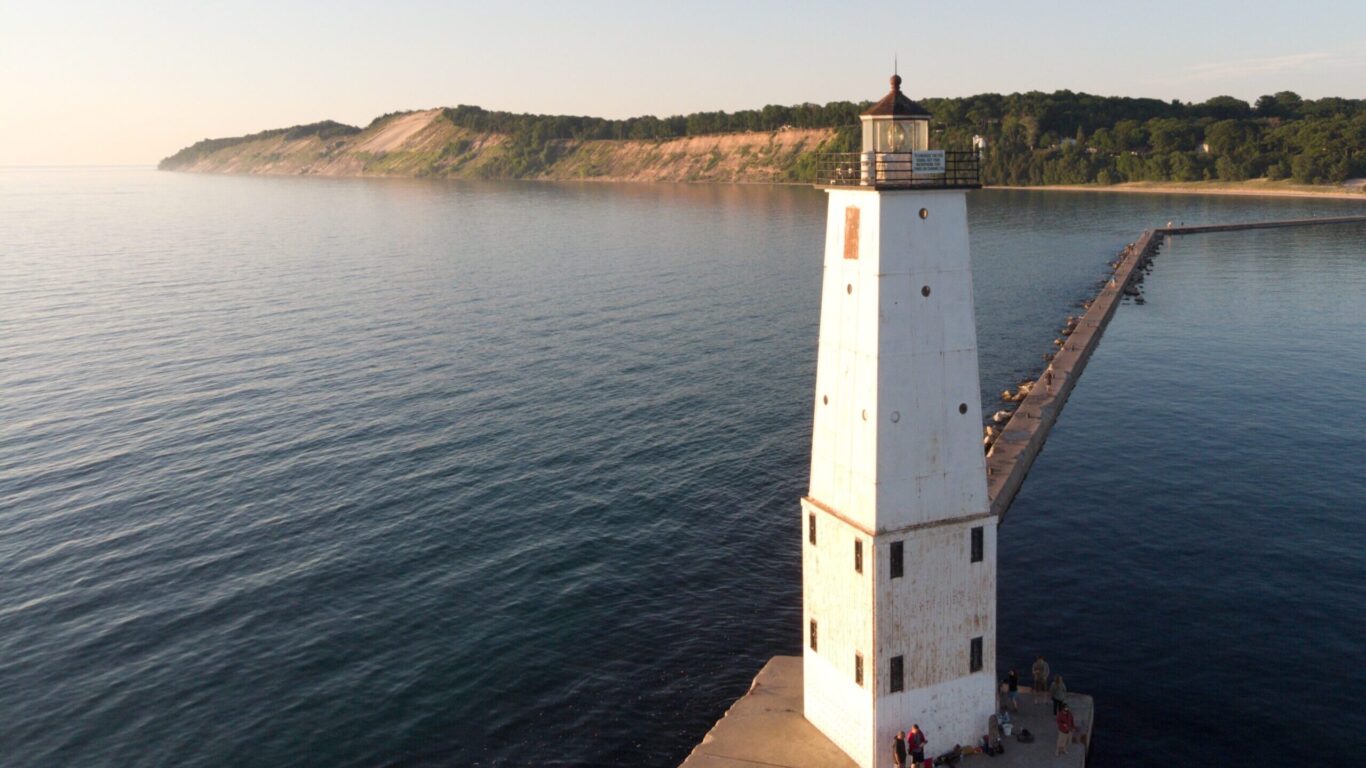 When you want to leave the comfort of Timberline Campground behind and do a little exploring, there is lots to do in the area. Benzonia County is small in population but big on the variety of attractions.
Here are the highlights of what to do in Benzonia. And when you've had your fill for the day, your Timberline campfire awaits your return.
Crystal Lake. As one of the prettiest lakes in Michigan, you can boat, water ski, fish, kayak, and swim. Aptly named, you can look through its clear waters down to the bottom in certain areas, and calm waters make for fantastic fishing opportunities.
Beulah. This little village is at the eastern end of Crystal Lake. It's known for its quaint shops, beautiful galleries, and cozy eateries. A peaceful and relaxing way to spend an afternoon. Outdoor enthusiasts will enjoy tubing or canoeing down the Platte River.
Sleeping Bear Dunes National Lakeshore. Just 30 minutes from Timberline, come see what all the fuss is about at this once-hidden gem. You will find amazing views of the dunes and Lake Michigan, great hiking, interesting local history, and some incredible sand dunes to climb. Start your visit to Sleeping Bear Dunes National Lakeshore at the Phillip A. Hart Visitor Center in Empire, MI to get oriented, get your maps, and see the introductory slide show.
Lake Michigan. This most humongous of Great Lakes has much to offer. In Benzonia County, Highway 22 offers scenic drives all up and down its shoreline, with plenty of spots to get out, stretch the legs, and marvel at the scenery.
Cherry Bull Drive-in Theater. Just up the road from Beulah on Hwy 31, this classic drive-in theater is historic and shows first-run movies on the weekends
Golf Courses near Benzonia. Pinecroft. Perfect your swing among mature pine and fir trees and undulating greens, with magnificent views of Crystal Lake at this challenging course. At Champion Hill, rolling bluegrass fairways are featured at this popular 18-hole golf course.
Frankfort. Just 10 minutes away from Timberline, Frankfort is a tiny town with beautiful beaches with views to match. The Betsie Valley Trail extends from Frankfort through Elberta and Beulah to Thompsonville; it's popular for both hikers and bikers. Pets are permitted through most areas with a leash.
Point Betsie Lighthouse. Built in 1858, the Point Betsie Lighthouse marks the southern entrance into the Manitou Passage, where ships were guided by a Fresnel Lens which remains on display today. Fully automated in 1983, the lighthouse is still fully operational. You can find Point Betsie off of M-22 at the end of Point Betsie Road. The lighthouse is open from Memorial Day weekend through around late October.
Betsie Lake. Down the road from the Lighthouse is a separate lake by the same name. Betsie Lake is the place to fish, with Northern Pike, Chinook Salmon, rock bass, and others ready for the catching. Parks, picnic areas, and other water recreation can also be enjoyed.