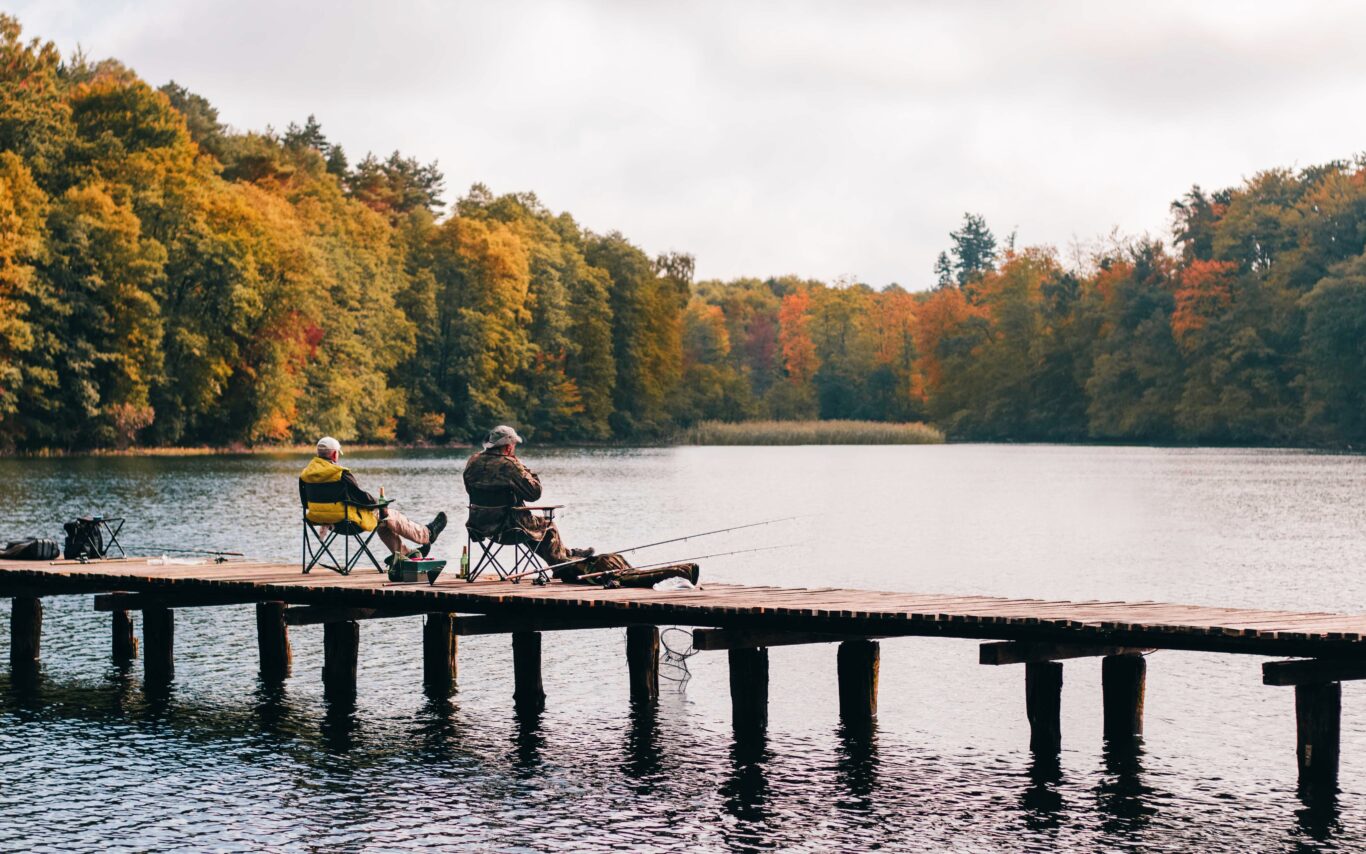 Here in northern Michigan, fishing is king. There are so many great places for the angler to hang their hat that they cannot all be contained in one blog post. But we'll give it our best shot. Those in Benzie County find themselves spoiled at the sheer number of choices for fishing.
Here are the best places to fish near Timberline Resort.
Lower Herring Lake
With 33 inland lakes in Benzie Country, it can be tough to hone your efforts down to just 2-3 places. The Lower Herring Lake, however, is a good spot to begin. The inlet there is an excellent place to catch perch, rock bass, smallmouth and largemouth, walleye, sucker, and pike.
Bass Lake
This is located in a park at Trails End Road, north of the Platte River. It's a more secluded place to fish and is very picturesque. Upper Herring Lake, Platte Lake, and Loon Lake all have public access docks that produce a lot of fish.
Betsie Lake and Betsie River
The lake is one of the best spots for bass fishing. Also, pike, burbot, and catfish. Nightcrawlers and worms are the best bait to use for these fish. You don't need a boat here – there's plenty of good shoreline fishing, especially on the Frankfort side. During the salmon run later in August and into October fishing off Frankfort Pier is ideal. Elberta Pier is another great spot for that.
Betsie River is one of the best locations in the state for catching salmon and steelhead. It is a tributary of Lake Michigan and offers a population of rainbow and brown trout, as well. The river is beautiful and a playground for anglers of all skill levels.
Steelhead and salmon can be found upstream towards Lake Michigan. Salmon are plentiful in late August through September, and steelhead makes an appearance shortly after and into the spring. The most popular access points to the river are at Homestead Dam, River Road US-31, and Grace Road.
For trout fishing, focus your efforts on the uppermost sections of the Betsie River. The spring and summer months are the best times for fly fishing for trout.
Crystal Lake
Crystal Lake has an abundance of stellar year-round fishing opportunities. Yellow perch are most abundant here, often exceeding a foot in length. Northern pike and smallmouth bass are also here, along with walleye and bluegill. Fish of the seasonal variety to be found in the lake are trout, salmon, and steelhead. Crystal Lake is also known for its smelt runs, which are a major food source for the larger game fish.
While this is a year-round fishing destination, summer is the best time for fishing at Crystal Lake. Smallmouth bass are concentrated along rocky reefs and drop-offs near the shore, and the best bait to use is jigs, live minnows, soft plastic lures, crayfish, and nightcrawlers. There is a major drop-off about 2 miles west of Beulah near Railroad Point that provides excellent fishing for perch and bluegill. Then, as the summer wanes and it starts to get cold, it's an excellent time to catch salmon and steelhead.
Crystal Lake is also a mecca for ice fishing during the winter months. It takes a while for the lake to freeze over due to its size, but once it does, usually by late January, the ice fishermen come out in droves. Perch, smelt, and lake trout are plentiful during this time.
Homestead Dam
The dam is located just 8 miles from Frankfort in Benzie Country. Here fishermen will find a variety of species including perch, sunfish, rock bass, rainbow trout, smallmouth bass, white bass, northern pike, and bluegill, among others. The fly fishing here is excellent.
Where to Find Boat Rentals and Gear
Crystal Lake Marina in Beulah is a good place for boat rentals, and Backcast Fly Shop is a good place for fishing gear. You can also get your fishing license in most bait shops, or online through the Michigan Dept of Natural Resources. Franfort Tackle Box is another place to get your fishing gear.