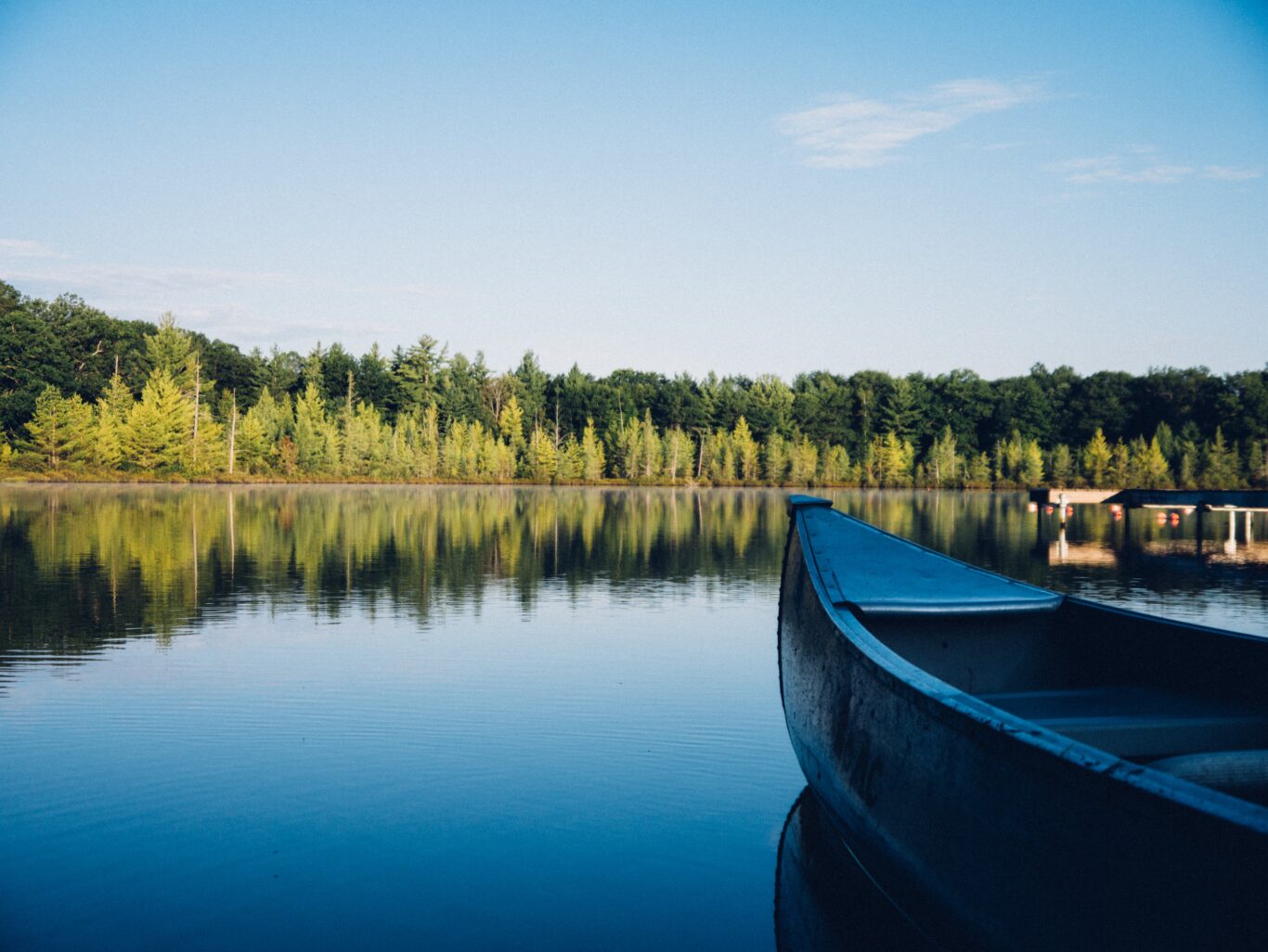 Here in northern Michigan, we are blessed with 500,000 acres of national forest, hundreds of miles of sparkling rivers, beautiful and challenging golf courses, a charming downtown with historical sites, family-friendly restaurants, and cultural activities galore.
No matter the time of year, you'll find plenty of things to do. But always be sure to check any attraction ahead of time, as hours and availability are fluid. We've included links to the websites of the best things to do near Camp Cadillac.
Nestled between Lake Mitchell and Lake Cadillac, the 334-acre gem of a natural space has something every member of your camping crew can get excited about. Lake Cadillac is a haven for anglers, with walleye, perch, panfish, and bass ripe for catching. Sandy beaches are great for warm summer days for wading in the water and sand-castle building. Winter is a great time to be here, with snowmobiling and cross-country skiing. The Carl T. Johnson Hunting and Fishing Center has interpretive displays and interesting workshops. And for hikers of all levels, the 2.5-mile Heritage Natural Trail is a great way to explore.
Huron-Manistee National Forest
At over 976,000 acres, these two forests share a name but are really two separate entities. Here you can fish and boat, but there's also cross-country skiing, horseback riding on three different trails, and mountain biking on the North Country National Scenic Trail. The Lumberman's Monument Visitor Center has wonderful interpretive displays on the banks of the Au Sable River, while the Loda Lake National Wildflower Sanctuary features over 238 pretty plant species.
Wexford County Historical Museum
Be transported to the early days of northern Michigan's illustrious history. Here, visitors can explore engaging exhibits that focus on daily life back in the day with a large collection of artifacts, photos, paintings, and maps. The museum has authentic, recreated elements of the area such as a one-room schoolhouse, a barbershop that doubled as a dentist's office, a watch shop for pocket watch repair, and an old-fashioned general store.
Located at the US-131 and M-115 interchange, this is a well-designed golf course surrounded by natural beauty. Enjoy elevated tees with 4,900 to 6,900-yard bentgrass fairways, gently sloping greens, hidden valleys, water elements, and towering trees to keep things interesting. The popular #4 hole has fairway bunkers providing that extra visual hazard. After the game, stop by the Cadillac Grill for its relaxing atmosphere, and delicious food, and discuss the game.
13th Street Market and Restaurant
What started as a popular breakfast joint has since blossomed into a full-service restaurant open for all three meals. 13th Street Markets welcomes those who appreciate warm hospitality and delicious dishes. Savory platters include Country Fried Steak, Not Your Mama's Meatloaf, Smoked Pork Chops, and so much more. When it's warm, enjoy your meal al fresco on their lovely patio.
This is epic family fun! The large outdoor park has attractive landscaping and even has an 18-hole Mountain Mini-golf course. An exhilarating go-kart track, batting cages, playground, and a games arcade complete the day of fun. Families can buy packages that best meet their needs, with different deals to be had each day. Concessions are on hand for when you need a pick-me-up or sweet treat. Open on Thursdays – Sundays.
Open since 1956, this iconic restaurant has stuck to its long-standing tradition of offering a mouth-watering menu and fantastic views from its lakefront location on Lake Cadillac. Classic upscale fare is on the menu with perfectly-prepared dishes such as Maple Glazed Salmon, Blackened Ribeye Steak, and French Onion Chicken. Wine, beer, and cocktails are also served.