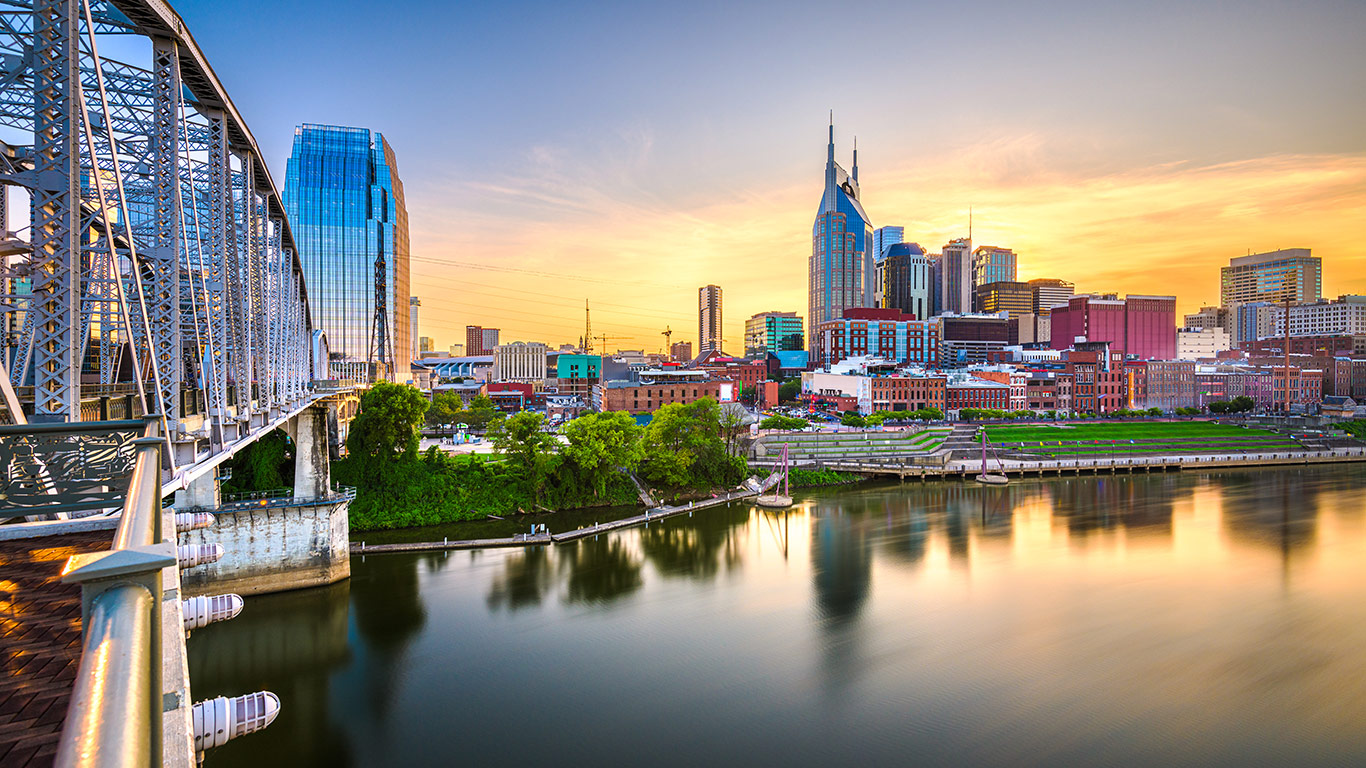 Tennessee is a place teeming with epic Americana. From Lookout Mountain to the Great Smokies there's no shortage of sights to see, music to explore, and experiences to share in this singular state. Well worth an epic road trip, here's the definitive list of stuff you gotta see in Tennessee that would make a great day trip from Broken Banjo.
Arguably the music version of the Grand Canyon, the Grand Ole Opry is the quintessential stop in Nashville, just a little over an hour's drive from Broken Banjo. What began as a modest radio broadcast show in 1925 has evolved into the epicenter of country music in America, becoming the most visited destination in the city and a buck list trip for many.
Today, the Opry still runs radio broadcasts, but its mainstay — and the most immersive way to take it all in — is the country music concerts from the likes of Brad Paisley and Carrie Underwood. Backstage tours are also available, giving visitors a deep dive into this amazing slice of musical Americana.
Heading east from Nashville, things get greener and more mountainous, and nature becomes a star attraction. In Chattanooga, about an hour southeast of Broken Banjo, Lookout Mountain reigns supreme over eastern Tennessee like a rugged beacon. Numerous hiking trails offer routes from moderate to strenuous. Alternatively, you can travel to the top via the steepest passenger railway in the world, reaching an intense grade of 72.7%!
Once there, Ruby Falls is the deepest commercial cavern in the U.S. and accessible only via guided tours leading to a cascading waterfall more than 1,000 feet beneath the surface. There's also a viewing point where seven states are viewable from a single spot (Tennessee, Georgia, Kentucky, Virginia, Alabama, and the Carolinas).
Back down in Chattanooga, one charming facet of the city's history is its railway heritage, specifically the Chattanooga Choo Choo. One of the most well-known trains in American history, the aptly named Choo Choo is an old-time wood-burning steam locomotive that, in its heyday, used to travel between Cincinnati and Chattanooga in the late 1800s.
Today, the historical station harkens to Chattanooga's past as a hub for train travel in the South. The station also features bars, restaurants, a comedy club, and the Songbirds Museum; home to an impressive collection of rare vintage guitars.
Great Smoky Mountains National Park
Most people don't know this, but Tennessee is home to the most visited national park in the nation: the one and only Great Smoky Mountains. With a forested, craggy landscape of majestic mountains along the Tennessee/North Carolina border, this epic park is a worldwide mecca for camping, hiking, biking, scenic drives, wildlife-spotting, fishing, waterfall-chasing, and so much more.
Of the many miles of hiking trails to explore, some of the most popular hikes include Andrews Bald, Rainbow Falls, Alum Cave Bluffs, and Chimney Tops. The latter is an awe-inspiring journey that lifts 1,400 feet in elevation over the course of two miles. It's not for the faint of heart! After a strenuous hike up Sugarland Mountain, you will be rewarded with magnificent sweeping views of Mount Le Conte and rolling terrain as far as the eye can see.
With Dolly's recent induction into the Rock 'n Roll Hall of Fame, country music's darling queen has made a resurgence in the public eye, and she's still going strong. This is a great time to visit Dollywood and live the magic as seen through her eyes.
The beloved amusement park is a family-friendly paradise in bucolic Pigeon Forge, smack dab in the Great Smoky Mountains. The theme park features something for every kid and kid-at-heart, with more than 50 attractions ranging from charming playgrounds and old-school carousels to adrenaline-pumping roller coasters, a water park, bird shows, quaint restaurants, country music shows, and nighttime fireworks.