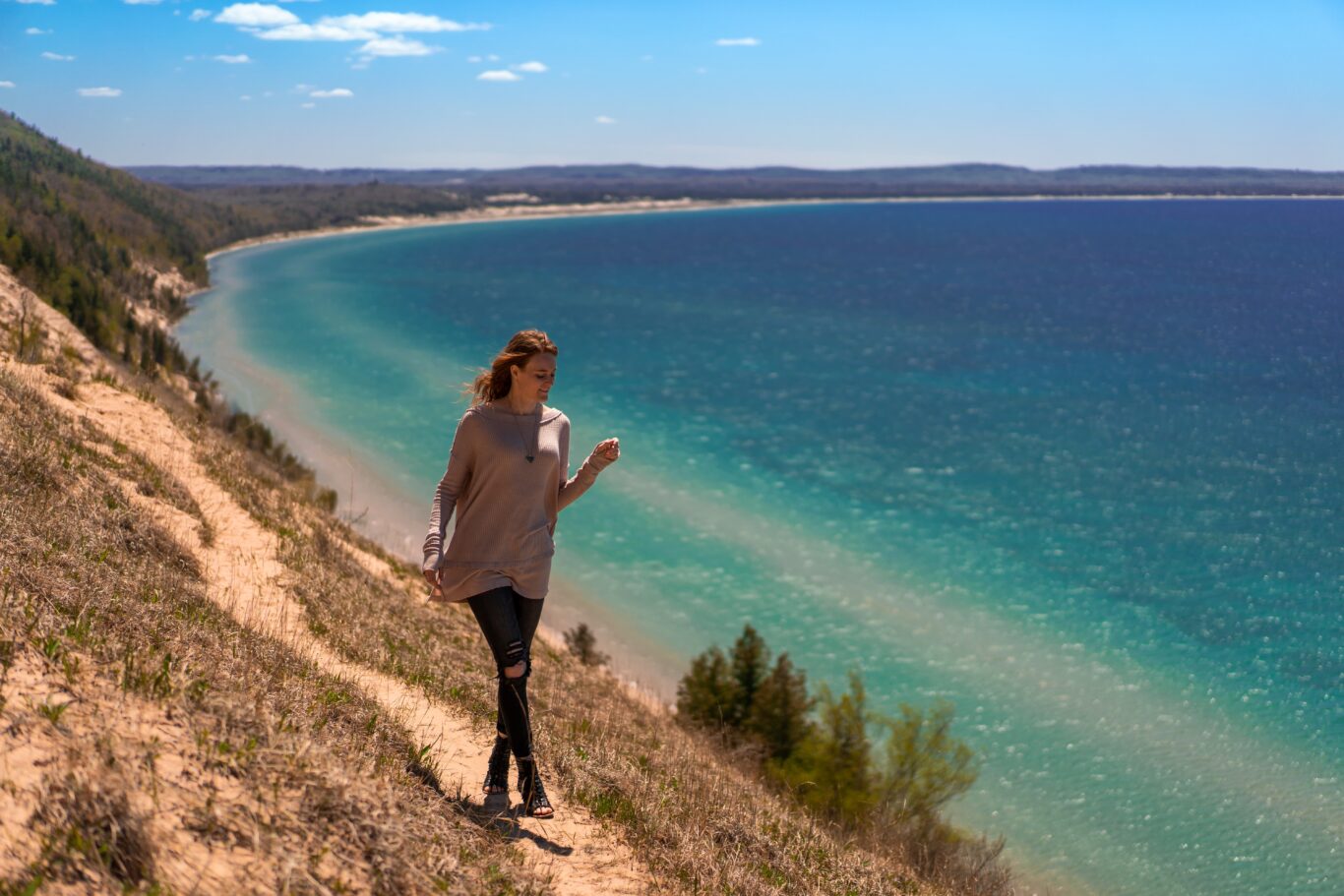 Northern Michigan has long been known as "The Land of the Great Outdoors," and for good reason. Here you'll find long stretches of beautiful trails perfect for biking, hiking, skiing, kayaking, and more – making this area of Michigan truly one of a kind.
Michigan boasts some of the most picturesque inland lakes in the US, such as Crystal Lake, Glen Lake and Platte Lake. This refreshing freshwater oasis makes for great family vacation spots in Michigan.
Northern Michigan is a haven for nature lovers, boasting crystal-clear lakes, lush forests and breathtaking vistas. As one of America's top travel destinations, it has plenty to offer in terms of outdoor activities to enjoy – whether you're from Northern Michigan yourself, an out-of-towner or just passing through. No matter who you are – Yooper, Michigander or visitor – there's something here for everyone!
Sleeping Bear Dunes National Lakeshore is a haven of natural splendor on the shores of Lake Michigan. It boasts towering sand dunes, beaches, forests and inland lakes as well as Manitou Islands and numerous scenic drives.
Hiking is one of the most popular activities at Sleeping Bear Dunes, as it gives visitors a chance to explore sand dunes and take in stunning views of Lake Michigan. Be aware that many popular trails involve climbing hills up into the dunes and then walking through sand on the way.
Biking is a great way to take in the sights. There are multiple trailheads along the park's bike trail, which is both paved and wheelchair accessible.
You can opt to either bike a few miles between attractions or complete the entire trail that leads you to Dune Climb, Glen Haven and Pierce Stocking Scenic Drive.
If you're visiting in springtime, why not go hunting for morels – a type of mushroom found nearby. This can be both an enjoyable and educational experience for the entire family.
Crystal Lake
Crystal Lake is a lake that attracts many to swim, boat and waterski. But did you know it's also an excellent fishing spot? Hire a guide to help you catch some of the area's finest species like Rock and Smallmouth Bass, Coho Salmon, Lake Trout, Brown Trout or Rainbow Trout!
Crystal Lake not only offers amazing watersports, but it's a popular spot for vacationing as well. This beach area offers a picturesque shoreline, plenty of parking and an old-world bathhouse. Additionally, there are picnic areas, grills and a children's playground available for your enjoyment.
Visitors to Crystal Lake Park can purchase a day rate per person or purchase a season pass in advance. During summer operating hours, the park is open to the public at its main entrance on East Crystal Lake Avenue in Crystal Lake.
Beulah is a small village on Crystal Lake and the only full-fledged village on the entire lake. Its picturesque beach is lined with pine trees and features a large park with a pavilion, barbecues, picnic tables and parking.
Orchard Beach State Park, situated along the eastern shore of Lake Michigan, provides stunning water views and spectacular sunsets. This park is perfect for taking a break or exploring Manistee National Forest trails.
Orchard Beach State Park, situated atop a bluff overlooking Lake Michigan, offers plenty of opportunities for outdoor fun. It features hiking trails, an accessible stairway leading down to the shoreline, and numerous information stations that explain the history and ecology of both Manistee County's shoreline.
For residents of Michigan, a recreation passport is required for entry. This pass can be purchased at the gate or when renewing your vehicle license for one year.
Visitor information can be obtained at the park administration office or online. A Michigan Recreation Passport is required for vehicle entry into state parks and recreation areas, boat launches, and trail parking lots.
Arcadia Dunes Mott Nature Preserve
Arcadia Dunes' CS Mott Nature Preserve is an idyllic spot to take a hike or mountain bike, birdwatch, or simply enjoy stunning views of Lake Michigan. Additionally, this park provides excellent fishing and boating opportunities.
The preserve boasts over 15 miles of trails that meander through forests and other landscapes. Visitors to Arcadia Dunes can also take the Overlook Trail at Baldy parking lot for an enchanting overlook of Lake Michigan.
This trail is fully accessible and offers stunning views of Lake Michigan's dune bluffs. Made up mainly of crushed gravel and boardwalks, it's an ideal way to explore this gorgeous forest.
Another popular attraction at this preserve is the Old Baldy Trail, a must-take when visiting! This trail winds its way through dense hardwoods to a stunning overlook of dunes bluffs.
Many people enjoy taking hikes and mountain bike rides here. The trails are clearly marked, offering stunning views of this preserve. It's the perfect place to escape into nature and relive childhood's joy! You are sure to have an enjoyable experience here that you will remember for years to come.