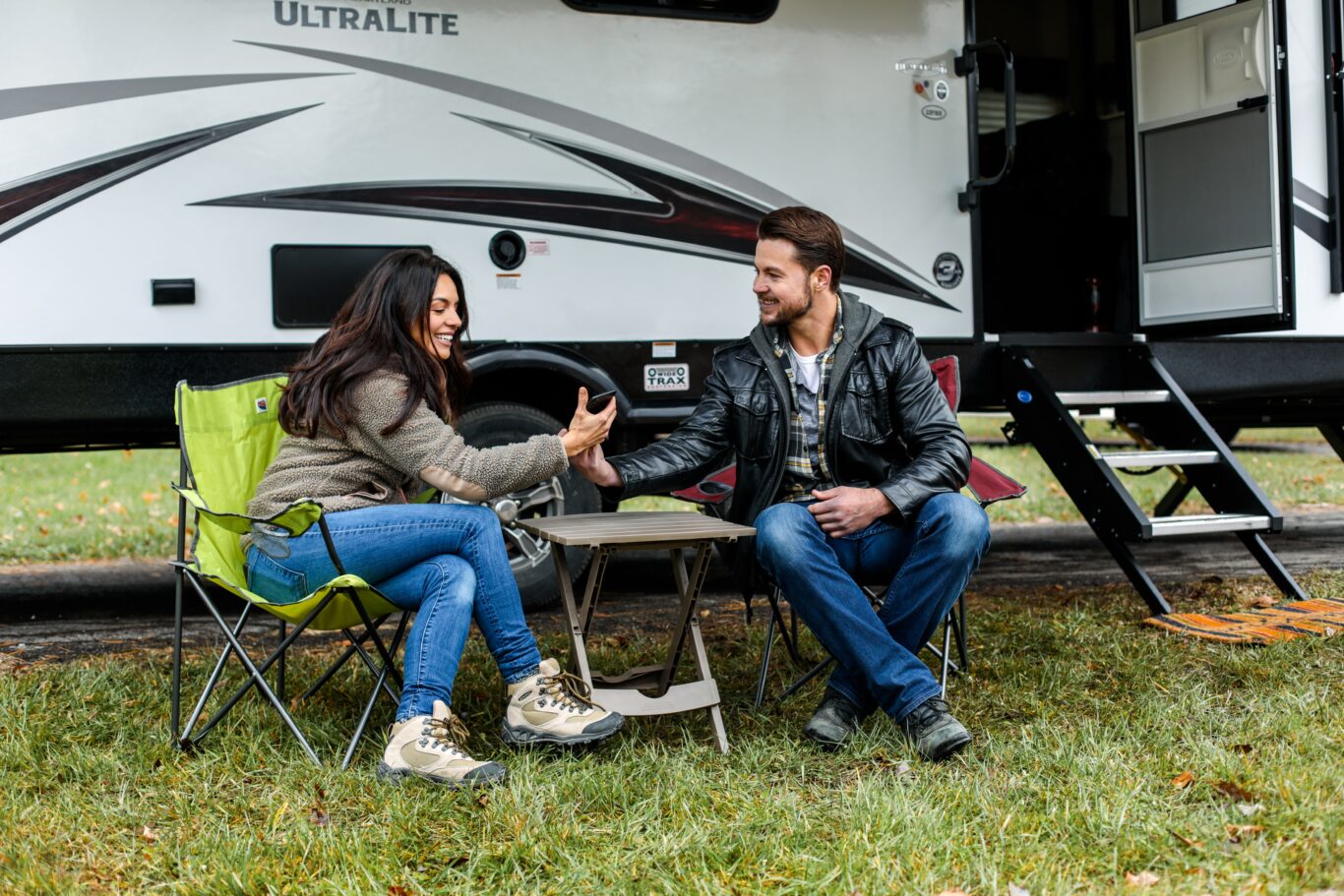 Camping, whether in a tent, RV, or other close space, can be very romantic…if you know how to play your cards right! The limited confines have been known to either make or break a relationship.
Do it the right way and rekindle your romance while camping. There are many ways to do this – a few are absolutely free, with some punctuated by Mother Nature. Others involve culinary delights that can be had any day of the week.
Here are some great ways for couples to spend some quality camp time together.
Setting the Stage
The most successful date nights don't require much doing.  All you need to do is create the right ambiance for relaxing. Swap out those citronella candles for scented ones with aphrodisiac properties. Think of scents like rose, sandalwood, vanilla, and jasmine – some of the most sensuous scents out there. Then add a little music by creating a playlist with favorites such as Ingrid Michaelson's "Can't Help Falling in Love," or Ray La Montagne's "You are the Best Thing." If you need help, Spotify is excellent for suggesting romantic themes. And there are no rules against slow dancing at your campsite!
Venus, The Goddess of Love
Many ladies, especially those who love the great outdoors, are not big on receiving flowers. They'd rather admire the ones still in the ground! On the other hand, some guys would rather have a root canal than hit the dance floor. In this vein, a happy medium for both is having a romantic stargazing night. To do this you must plan accordingly. Keep a weather eye on the forecast and choose a clear evening. Then check out www.space.com for monthly calendars featuring maps of the starry night. The intention is to create a romantic setting and choose a spot away from campground lights for better celestial viewing.
Create a Love Boat – Then Eat It
If you both like bananas, this fantastic twist on a campfire dessert can be shared, making for a romantic after-dinner treat. Simply slice a banana lengthwise, don't peel it, and don't cut the banana into two pieces (you're creating a boat to hold other ingredients.) Start with mini marshmallows and a few chocolate chips, or add a dollop of Nutella or some shredded coconut. Feel free to add some nuts, peanut butter, or whatever you're currently craving. Wrap the banana boat in foil and cook it over the open fire or on the grill until the inside is nice and gooey.
Catch the Sunset – And Sunrise
A good sunset is a surefire way to set the mood for date night. Why not also catch the sunrise the next morning and set the mood for the next day? Most people in a campground are not early birds, so you'll likely not have many people around, making it even more romantic. You can even pull this off if you have kids who like to sleep in. But if you only have time for one, try to make it the sunrise and pick a good spot, complete with coffee and cinnamon rolls—for a change.
Turn Up the Heat
 Camping during fall or winter can be very romantic and incredibly conducive to cuddling. Not only does a good cuddle create body heat, you can find warmth in sharing a thermos of hot chocolate (with a little alcoholic nudge if you so desire) on a cool evening or brisk morning when you want something warm in your hands. Add some romantic music from your playlist and you have a heck of a nice hour or two.
Play Seek and Go Kiss
A game that some may find a bit cheesy but is nonetheless fun is going on a lover's scavenger hunt. Depending on where you are, create a list of things to find together, whether around the campsite, resort, or similar environment. This is also a great activity if you're on the trail. Then when you find something, kiss for seven seconds. If kissing for that long is a bit much, start out with a high five and then progress from there. Psychologists claim that touch – of any kind – can be more important to a relationship than verbal contact.
Write Down Your Unique Love Story
Everyone's story is unique, no matter how mundane it may seem on the surface. Reminiscing about the past – how you met, when and where you fell in love, reliving your honeymoon – however you want to remember your personal love story, write it down! If the task of writing seems daunting, go online for some fun writing prompts or templates. Prepare yourself for remembering things from a different perspective. Instead of debating the details and idiosyncrasies, laugh them off and be grateful you crossed paths, however it happened!