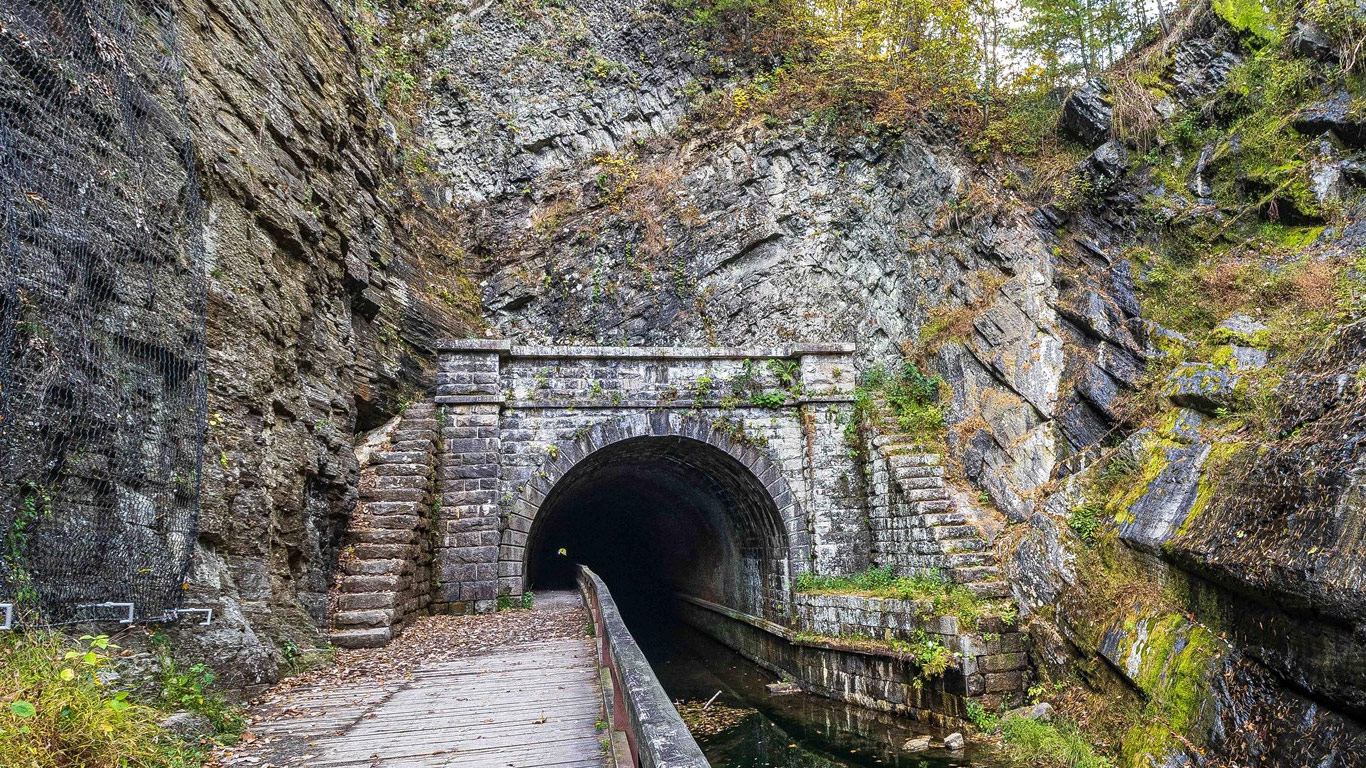 In Allegany County, the Chesapeake and Ohio Canal National Historical Park has been around for over 80 years and joins with the National Park Service. This national treasure is highly visited (it was the 11th most visited National Park in the U.S. in 2019). It strives to preserve and interpret a 19th-century transportation canal that joins Cumberland, MD to Washington, DC, and its natural, scenic, and cultural resources.
Think you don't like history? These scenic spots and fascinating stories may sway you the other way.
There are a number of stops to make on this magnificent journey into Maryland's past and would make a great activity for those staying at Ridge Rider. So if you're wondering about things to do in Allegany County or in western Maryland in general, read on!
Allegany Museum
As Allegany County's premier museum, it features the cultural, geographic, and commercial history of the Appalachians in Maryland, Pennsylvania, and West Virginia. The museum's vast collection of over 50,000 items expresses Cumberland's historical foundation and its ties to the east-west trade route linking coastal eastern America with the Ohio and Mississippi watersheds.
See the evolution of transportation from 1750 through 1900 with amazing models of canal boats, trains, and a fully-restored 1925 Conestoga Wagon and classic 1902 Oldsmobile. This museum inspires visitors to discover the unique heritage of this region and its contribution to America's development. Admission is free, but donations are welcome.
Canal Place Heritage Park
This is the place where the story of America's early transportation milestones is told through the rivers, rails, and towns. Allegany County served as a major transportation hub for the coal industry as well as others that helped shape our country as a whole. It played a large part in the western migration, where the west connected to the Eastern seaboard.
America's very first section of the National Road, the first federally-funded highway connecting Ohio, Indiana, and Illinois, began here in 1811 and became known as "The Road that Built a Nation." Meanwhile, below ground, the original Fort Cumberland tunnels gave refuge and escape for slaves on their journey towards freedom across the Mason Dixon line not far away.
Hop aboard the Western Maryland Scenic Railroad for a heritage train ride that takes you back in time in this three-hour journey to the Frostburg Depot Station and back. Or, get on a bike and cycle the area's bike trails, the C&O Canal Towpath and Great Allegheny Passage.
Paw Paw Tunnel
Located at mile-post 155.2 of the C&O Canal, this historic tunnel and feat of engineering stretches 6/10th of a mile through a mountain. It took 6 million bricks to make the tunnel, and today can be walked or biked through. It takes about 20 minutes to walk through it, but bring a flashlight! Even on the sunniest days, you will be in complete darkness for a few minutes.
Back in the day, the canal was used as a way to transport natural resources such as iron ore, lumber, and coal from the West to the Eastern seaboard, and helped fuel the development of a nation. Look for a number of features inside, including openings in the brick to allow for water drainage; rub rails – wooden planks attached to the brick liner to protect the tunnel, and brass plates placed every 100 feet throughout the tunnel that marks the location of the tunnel's vertical shafts.