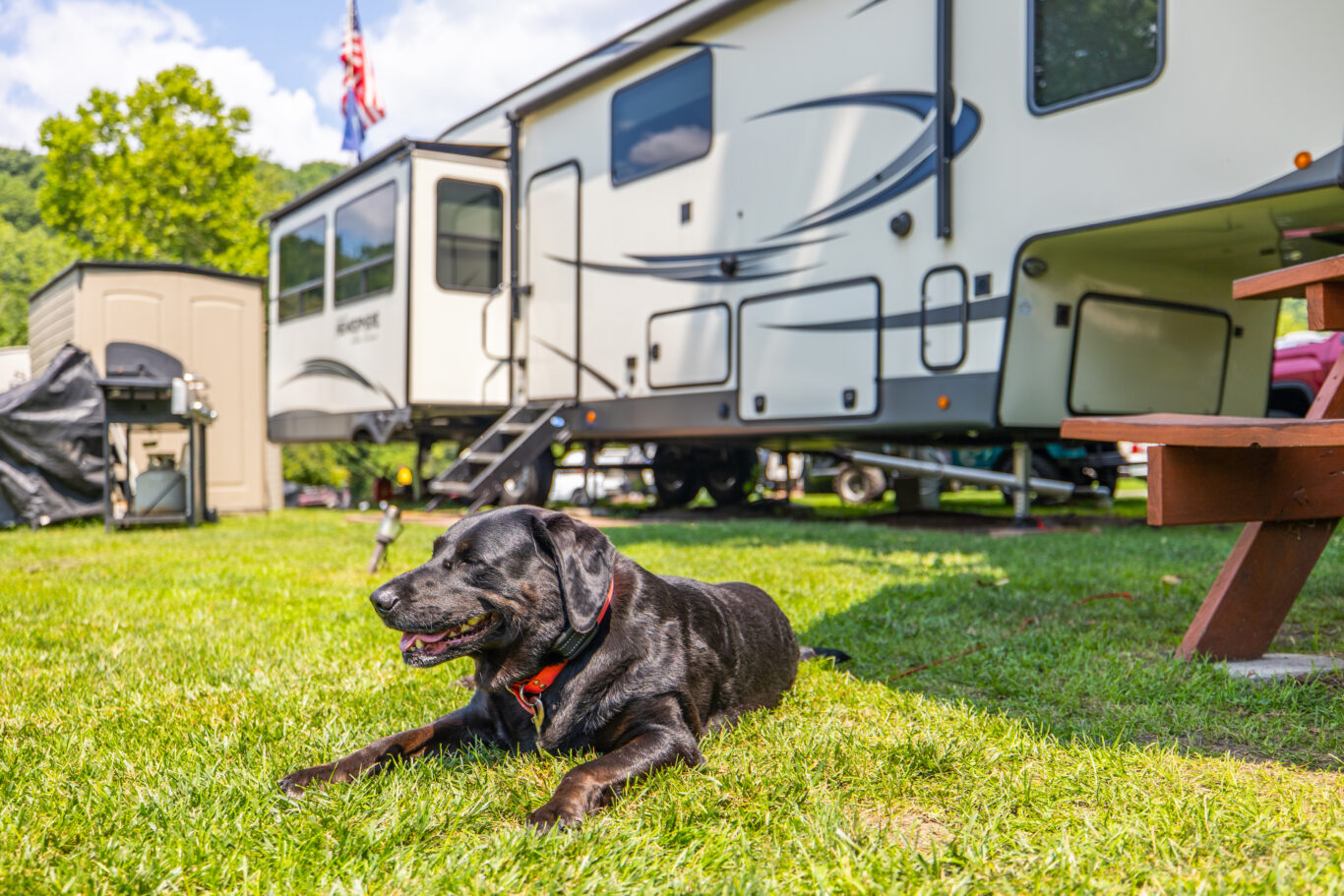 If you've stumbled upon this post – you are a dog lover. And you love to camp or RV. We are with you! Other people may not understand your passion for wanderlust and your pooch, but for you the two go hand in hand. Dogs love to camp, but it's good to plan ahead.
Here are some tips for camping with your dog, so you and your best friend can hit the open road with ease.
Plan Your Trip Always with Your Dog in Mind
It may sound obvious, but when you are planning which campgrounds and RV resorts to stay, always make sure they allow pets. And if they do, know what the pet restrictions are. If their policy is not listed on their website, do it the old-fashioned way; pick up the phone and ask. Also, find out if the nearby trails and parks will allow pets.
For private RV parks, many of them will allow only certain breeds and number of pets, and even size restrictions in some cases. If you want to be very thorough, find out where the nearest emergency vet is where you're staying.
Getting Ready
You will be outdoors with your dog. A lot. So, make sure they are up to date with their flea and tick medication, and if they take meds at home, make sure you have a good enough supply on hand that will last through your trip. Pack a doggie care package with enough food, treats, toys, leashes, and of course, the water bowl. Also bring their favorite bedding, and a pet first aid kit. Don't have one of those? This is a handy website to make one before you go.
And very importantly, campgrounds always expect you to clean up after your pet, so bring plenty of poo bags, and don't forget to use them! Using the leash is also important. Even if your dog does well off leash, most places will require them, and it is for your dog's safety, as well, since there may be wildlife around. A 6-foot walking leash is good for areas with neighbors. A long leash is great for those hiking trips so they have more room to roam and explore.
Don't Forget Your Neighbors
When you have set up camp, you will no doubt have neighbors on either side of you. Be your friendly self, but also be aware that not all people love dogs. Assess the situation with the neighbors you meet. If they also have a dog, you may want to set up play time, so use your best judgment to see if your dog and theirs would get along. If you are asked for a doggie play date and it doesn't seem like a good fit, politely decline.
Don't Be Afraid to Speak Out
Camping with your furry friend is always an adventure. Your buddy may become overexcited with the new surroundings and misbehave just a bit. If your dog starts barking a lot or digging holes, but sure to curtail the situation quickly and discourage the negative behavior. Keep them in check by setting the same boundaries you do at home. When they respect your commands, give them positive reinforcement with a treat. This will comfort your dog and remind him you are in control.
Keep Those Pests Away
In the great outdoors, bugs will be bugs. And they tend to bite. Just as you should bring insect repellent for yourself, you should do the same for your dog. On the trail, don't allow your dog to wander out of your sight, which is why you should always keep them on a leash in unfamiliar territory. After every hike, check them for any tiny hitchhikers that may have tried to catch a ride on them.
Keep Things Clean
No matter where you decide to camp, always put up after your dog – even when you're on your own out in the boonies. Your site should look the way it did when you first arrived – this means also picking up after your pooch. Make sure all garbage is in the proper waste bin, or if one isn't available, take it with you to dispose of it in town. Purchasing biodegradable poo bags is always a good idea. When campers with dogs show respect to the campground, they do their part in keeping it open to other pets.