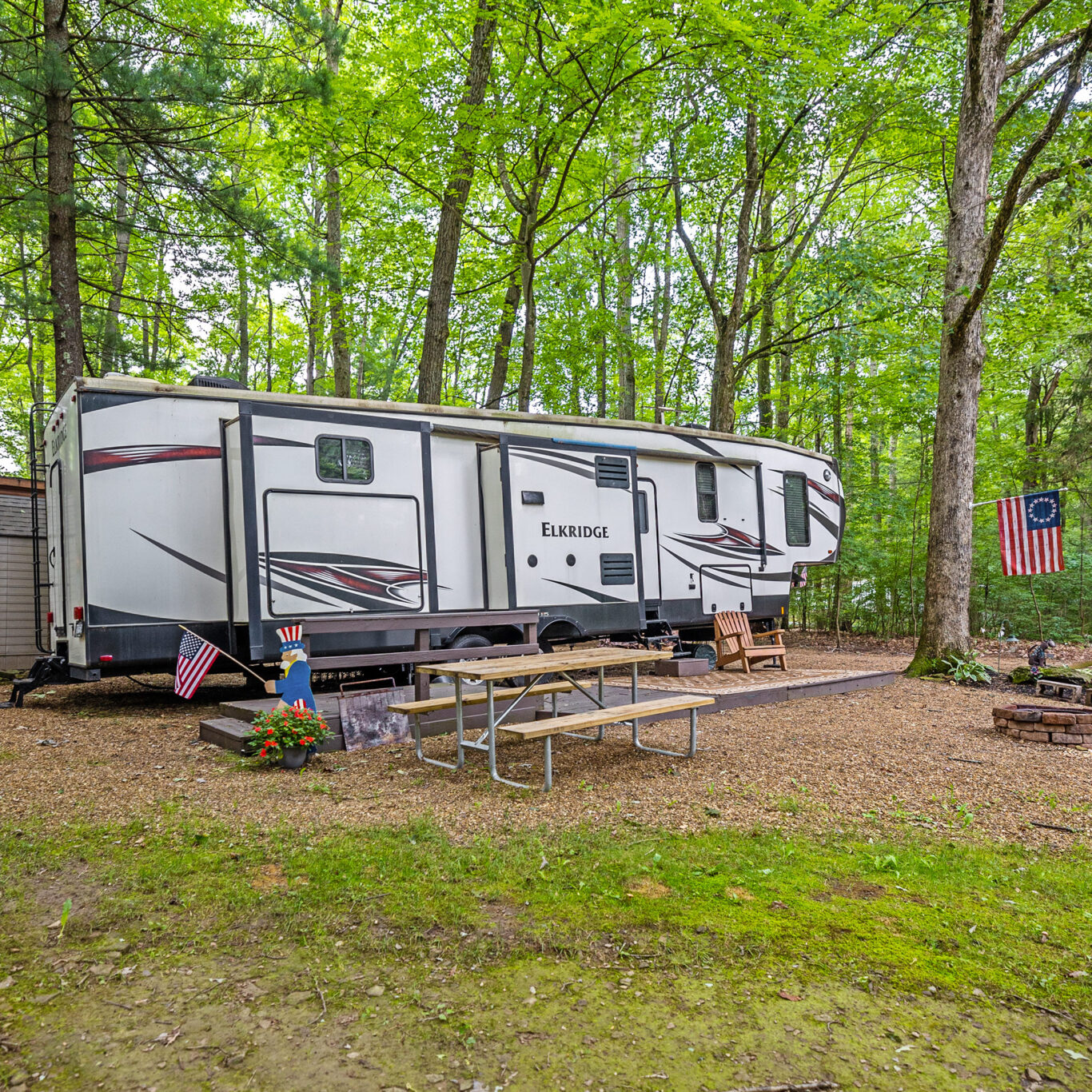 Whether you are tent camping, RV camping, or glamping in a cabin or yurt, planning for the adventure in the cooler months can sometimes be a challenge. Between scheduling, organizing, and getting everyone on board, a lot of effort goes into turning your fall camping dream into reality.
The truth is, camping in fall after the crowds have gone can be one of the best vacation decisions you'll make. If you do it wisely! There are rookie mistakes that even the most seasoned of campers can easily make. It's good to know ahead of time some of the common fall camping pitfalls and how to avoid them.
Not Being Prepared for Wind
In many parts of the great ol' US of A, fall means windier conditions. Which may seem harmless, but not so much when you're trying to set up that tent or keep your lawn furniture from blowing away! This coupled with cooler temperatures also means you need to dress in layers.
To Avoid: Secure your tent with extra stakes. If in an RV, always double-check the awnings, overheads, and shelters you set up outside your RV to make sure they are secure.
Too Much Extra Weight
When you pack with more layers and heavier blankets, the extra weight can be quite cumbersome. And yet you need these for the cooler weather, rain, and potential snow.
To Avoid: If you don't already have, invest in clothing that is lightweight, yet keeps your body core warm. Avoid bulky sweaters and bring thermal layers, such as wool or Gore-Tex clothing. Same is true for sleeping bags and blankets. There is a lot on the market nowadays that offer warmth while also being lightweight.
Getting Stuck in Snow
If you are heading to the higher elevations or camping in winter in the northern states, getting stuck in a snowbank is a very real possibility. The last thing you want to be for that is unprepared!
To Avoid: Pay attention to the weather report every day. If the forecast calls for rain and you travel higher in elevation, that rain can easily turn into hard and fast snow that accumulates quickly. If you are camping in these elevations, protect your gear from wetness. And if you're tent camping, be aware of snow accumulation on your tent so you can avoid it collapsing under the weight of precipitation.
Forgetting that the Sun Sets Early
The long days of summer are gone and the days get shorter by about a minute every day shortly after the summer solstice. Depending on where you are and how late into fall you are traveling, be mindful of when the sun sets each day. This is good not only for planning activities during the day, but for driving. You want to avoid driving at night as much as possible.
To Avoid: Note what time the sun sets, and plan accordingly. When arriving at a new campground, aim for arriving at least 2-3 hours before the sun sets. This way, you'll have time to set up camp and even have a little dinner before it gets dark.
Forgetting About Wildlife
Yes, we're talking about bears! During fall, the bears really go to town, wandering around and gathering food in anticipation of their wintery hibernation. These furry guys are on a mission and it's not unusual for them to visit campsites in search of food! They could spend up to 20 hours a day searching for food.
In short, you don't want to come face-to-face with a bear during this time of year.
To Avoid: Be aware of whether your area sees bears on the regular. This should be easy to find out. Do some research online and definitely check in with park rangers, campground hosts, and other people who know the area well.
In bear territory, always keep your campsite clean. Keep your food stored in your RV or in a bear-proof container away from camp (at least 100 yards away).