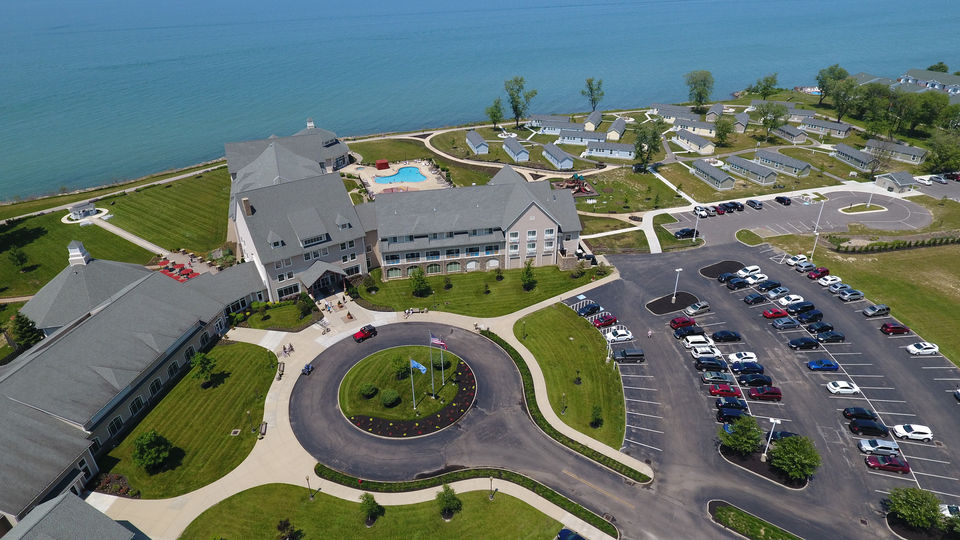 The fabulous Lake Erie is a 2-hour drive from Camper's Paradise, and well worth a side trip from our RV resort. Along its shorelines are amazing beaches, wineries, restaurants, and charming lakeside town, ripe for exploration. Here are the highlights of what to do and see on Lake Erie's shores closest to Sigel.
Geneva-on-the-Lake. A truly charming small Ohio town, this is a 50s-era throwback to the way vacation used to be (and probably should be again!) Little has changed in this lovely resort town in the decades since its heyday. The entire town is only about a mile long and easy to explore in an afternoon. Browse through the antique stores, stop for a sweet treat at the donut or ice cream shops, take a ride on the Ferris wheel, and take in a game of miniature golf. Then grab lunch or dinner at Eddie's Grill, which serves up the best burgers, dogs, fish sandwiches and homemade root beer.
Explore Ohio's covered bridges. Ashtabula County near Lake Erie's shores features a total of 19 covered bridges, with 16 of them drivable. The Ashtabula Covered Bridges Trail, also known as the Covered Bridge Loop, offers 12 covered bridges over a span of 67 miles. To see them all, we recommend setting aside an entire day to stop at each one at your leisure. The 2nd week of October sees the Covered Bridge Festival, with crafts, entertainment, great food and more.
Explore the Wine Region. There are over a dozen wineries to explore, and this is an award-winning winery region. Be sure to visit Harpersfield Vineyard and Winery. The soil along the Grand River was laid there as the Great Lakes were being formed by glaciers during the last Ice Age, making it perfect for grape production. This estate produces grapes for Pinot Noir and Chardonnay wines; among the finest in North America.
Presque Isle State Park  located on a peninsula that arches into Lake Erie just off the shore of Erie, PA. Other than the numerous beaches, picnic areas and bike trails, the park boasts the Perry Monument, a 101-foot structure at the eastern end of Presque Isle and dedicated to Commodore Oliver Hazard Perry, who defeated the British fleet in the War of 1812. While here, be sure to stop at the Bicentennial Tower. The lookout provides some of the best views of the lake. Ride the elevator to the top for stunning panoramic views.
Headlands Beach State Park. While Lake Erie is home to more than 30 beautiful beaches, this one in Mentor stands out among the rest. It is the largest natural sand beach in Ohio and features the Fairport Harbor West Breakwater Lighthouse, a beloved local landmark.
Sandusky area. This 100-mile stretch of shoreline dotted with resort towns between Toledo and Cleveland is a big summer destination area. The Marblehead and Catawba peninsulas curve into the lake and dissolve into a handful of islands. The largest are Kellys, Middle Bass and South Bass Islands, all accessible by ferry. West of Sandusky are several natural places renowned for hikes and bird-watching. Don't miss Marblehead Lighthouse and the Magee Marsh Wildlife Area.