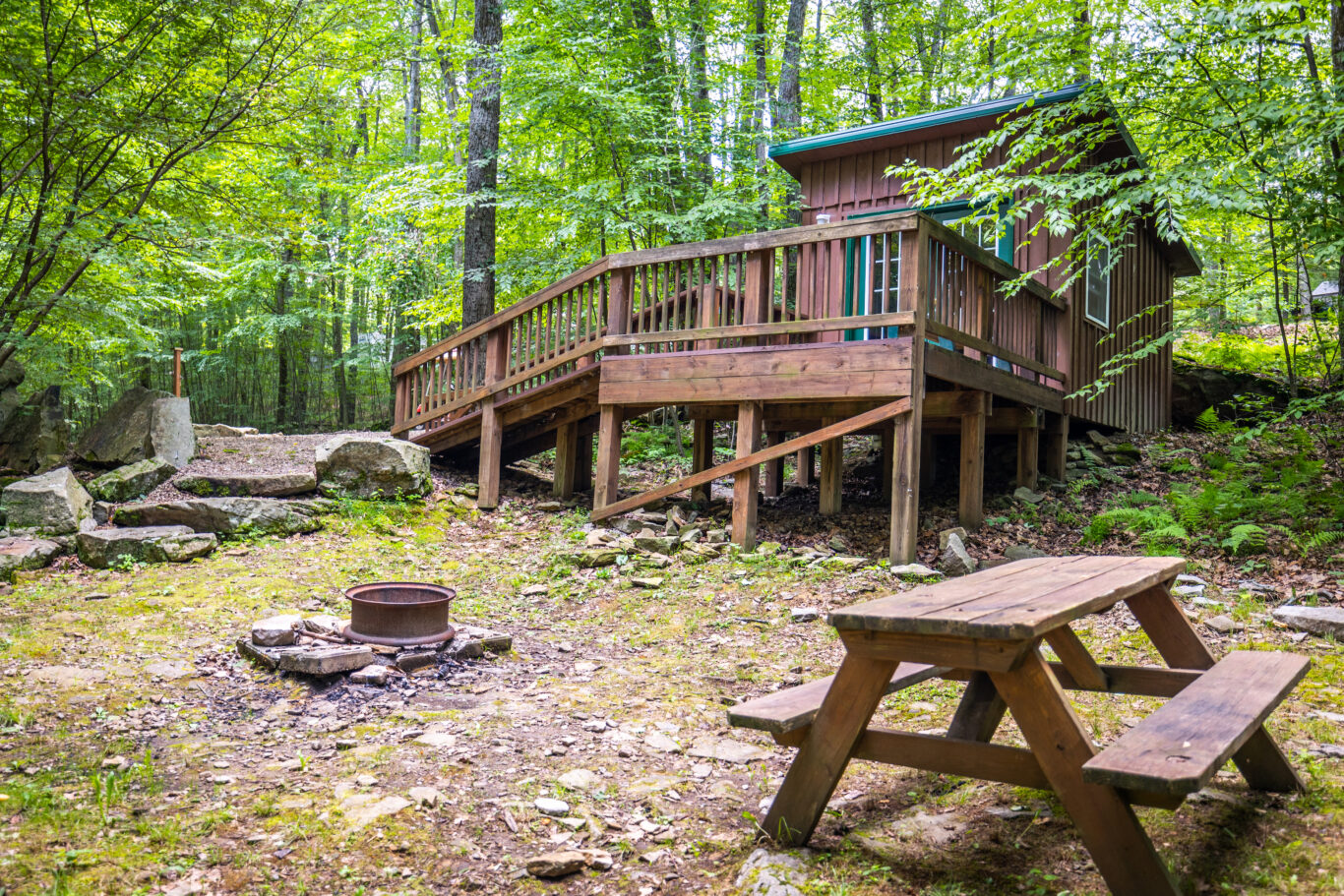 Ever struggled with the desire to camp, yet you're not so sure you want the extra preparation that goes with tent camping? You want to be out in nature but you kind of don't want to mess with setting up a tent, and buying or renting an RV is just not an option.
Wish there was a happy medium?
Good news! There is.
Enter the campground cabin. It is an alternative to 'glamping' with many of the amenities of a hotel along with the charm of stepping right outside your door into nature. Still, there are a few things to consider regarding the hotel vs. cabin debate.
Pros and Cons of Cabin Camping Vs. a Hotel
We're all familiar with the type of hotel/motel we like, but not everyone has had the cabin experience. It suits some better than others, and we may be biased, but more often than not we much prefer cabins. Why?
Convenience – most people opt for hotels or motels because they are literally everywhere. But cabins are very plentiful as well if you know where to look. (Psst, Camper's Paradise has some really great choices!) Cozy cabin lodgings are found in lots of places these days. If you can't make it to one of our awesome cabins loaded with amenities, simply Google cabin lodging (in your area) and you will come up with many options. Just be sure to book well enough ahead of time, as cabin camping is growing in popularity.
More privacy – cabins are usually nestled away in their own corner of a campground, giving you more room to breathe and a bit more space to call your own. These are both essential elements of a truly relaxing getaway. Hotel rooms are squeezed in right next to each other and often times you can hear your neighbors, which is hardly ever a good thing.
Access to the great outdoors – There's nothing quite like spending the night out in nature with a roof over your head. You wake up and step outside the door, and you're right there. The birds are singing and the air is crisp and cool. With a nice hot drink in your hand…there's nothing better. If you want to enjoy a nice campfire, cabins can accommodate…hotels cannot.
Affordability – with the dramatic rise in hotels over recent months, cabins can be an affordable alternative. While they are certainly more expensive than campsites, they cost less than hotel rooms overall for three main reasons: 1) most can accommodate your entire family or a larger party, 2) you can often get a discount for longer stays, 3) you can save money by cooking your own meals in the cabin kitchen, rather than eating out for every meal.
And now for the cons. Because we like to keep it objective!
Not within a town or city – the very definition of cabin means it's outside the city limits and in nature. So, if you want to visit attractions in town, you have a small road trip ahead of you.
No room service or maid service – staying in a cabin is like staying in your own house. The place is yours for the duration, which means you're responsible for keeping it somewhat tidy and not leaving the place in shambles upon your exit. You make your own bed and do your own cleaning.
All of that put together, cabins are a pretty sweet alternative to hotels when you want to commune with nature. Come stay with us and see why our cabins are among the best you'll find anywhere!