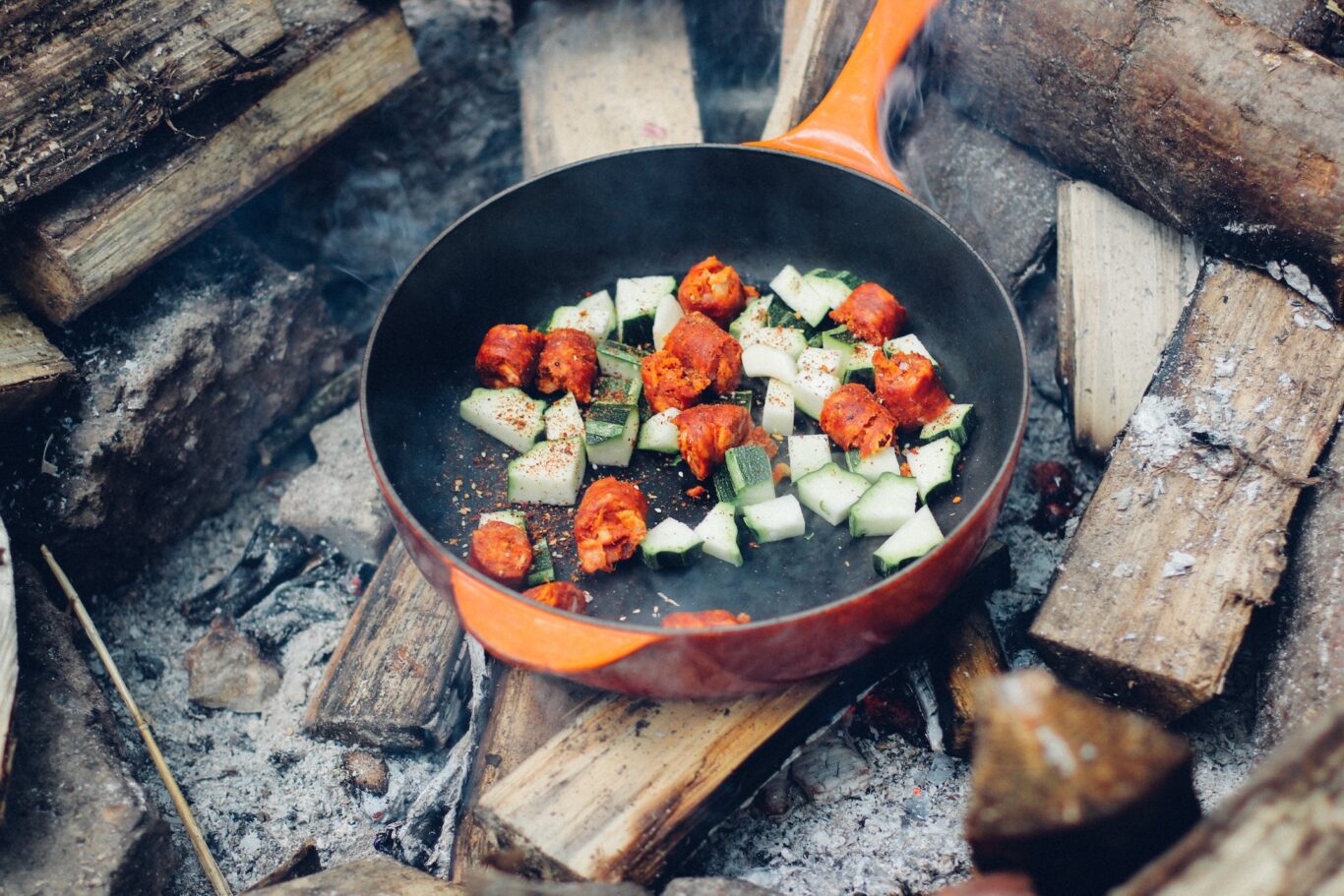 It's easy to fall back on the boring campfire menus such as hot dogs, chili, and s'mores. Dare to take your camping meals up a notch or three by incorporating these ingenius cooking tips on your next trip.
Add Bacon
One of the great joys of camping is waking up to the delicious scent of crispy bacon! It's the ideal way to start the day, adding a deliciously smoky flavor to all sorts of recipes and provide fuel for an adventure filled weekend of hiking, kayaking or just lazing around in your hammock.
However, cooking bacon in your tent or RV can be quite the messy experience, producing grease splatter and an aroma that lingers for days afterward.
Camping cooking hacks exist that can help avoid this cluttered scene, the easiest being using tinfoil to wrap bacon.
Swap Out Spaghetti for Polenta
Polenta is an ideal campfire recipe, as it cooks quickly and can serve both as an appetizer or main course. Furthermore, its handling makes it much less intimidating than pasta!
In this recipe, tube polenta (found at most grocery stores) is prepared according to package directions and seasoned with a pinch of ground sumac before topping with sausage and vegetables and finished off with a sprinkle of Parmesan cheese gratings.
If you don't have polenta on hand, either grits or semolina flour make an ideal substitute. Both varieties cook quickly and taste delicious when served topped with your choice of sauce.
Add Fancy Cheese
Pre-packaged shredded cheese? No can do. Instead, head to the "fancy cheese" section of your supermarket for some quality hard cheese. It tastes so much better and also keeps better in a cooler and/or your RV fridge.
Gruyere, Parmigiano, and aged cheddar are your best bets. You will be surprised at how much they add to your camping meals.
Try grating some of the Parmigiano over your chili for some extra flavor, or make a gourmet grilled cheese with a mix of the cheeses. Whatever you decide, choose any flavor-packed quality cheeses to elevate all of your meals.
Make a Charcuterie Board
Cheese and charcuterie boards are surefire crowd pleasers at parties, and doubly so as a great snack for grazing at the campsite.
Start by gathering all of the components for your charcuterie board: wooden cutting board, large serving tray or platter, or you could also line a sheet pan with parchment paper as an alternative solution.
Then load up your board with an assortment of meats and cheeses, along with vegetables, your favorite dip, olives, and crostini. For meats, a fine salami and/or prosciutto is good. Be sure to include spreadable soft cheeses like mozzarella as well as hard varieties for variety.
Use Fresh Food Instead of Dehydrated
It's easy to bring dehydrated fruits and veggies on the trip, but in our opinion, they just don't taste as good. Instead, bring apples and a good apple slicer. Baby carrots and tangerines are another good option – they keep well in a cooler for days.
Pre-Make Your Cocktails
Though pre-muddled herbs such as mint can bruise easily or fruit can turn brown quickly when prepped in advance for beverages, you can still create batched cocktails to impress camping guests by multiplying ingredients by the number of guests who will be served.
Make a whiskey sour made with Bear Face whiskey for an outdoor-themed drink that is sure to impress all your camping companions. They're sure to remember it fondly!
Level Up Your Basic S'mores Recipe
S'mores are an easy and tasty camping treat in both classic and hot chocolate versions, providing the perfect canvas to add many different ingredients for customization. Graham crackers, marshmallows, and chocolate provide the foundation to build upon when creating these treats!
Peanut butter or Nutella adds more flavor than just plain old toasted marshmallow, while for those missing their Girl Scout cookies, a Samoa or Tagalong s'more is an enjoyable alternative.
Fruity spreads like lemon curd and strawberry jam add an authentic summer experience to a classic s'more. Experiment with these upgrades this summer to enhance your glamping experience!