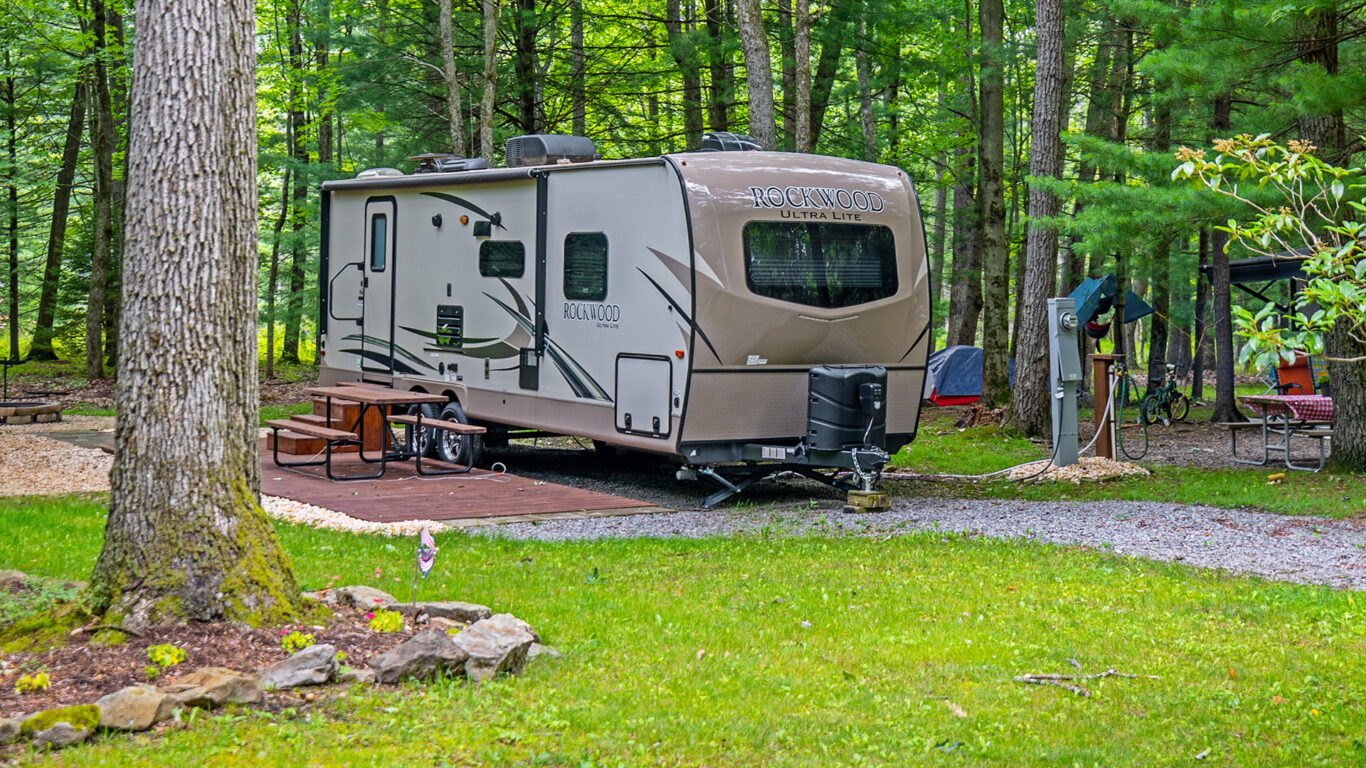 Your RV, no matter how big or small, needs certain items to make your travel experience as pleasant and convenient as possible. This is especially true if you spend a good part of the year in your RV, or have made it a full-time lifestyle.
This is by no means an exhaustive list! If you are new to the RV world, this essential RV list will get you well on your way.
Surge Protector & EMS
During your travels, you will encounter different types of weather and different electrical outages. A surge protector is key to making sure your cords don't fry. The EMS component guards your RV against under and over voltage by automatically cutting off your power, saving your RV electrical system.
Also, having a 50 amp to 30 amp adapter is handy for those times when you need a 50 amp RV site and only 30 amp sites are available. Similarly, 30 amp to 50 amp adapters are available. Choose the one that makes sense for you.
Drinking and Sewer Hoses
Have a clean and ready-to-use drinking hose that you can hook up to your fresh water tank. A handy pro tip is to connect the two ends together when not in use so that nothing crawls into the hose.
A second sewer hose is needed to flush your tanks – 15 to 20 feet in length is recommended. Try to purchase one that is a different color than the drinking hose so you don't confuse the two. When handling the sewer hose, it's always a good idea to keep disposable gloves in your RV for protection.
Generator
Some RVs come with onboard generators, but if yours doesn't, or you want a more powerful one, this is essential to RV living. It's especially handy if you ever boondock or dry camp.
Portable Air Compressor and Tire Gauge
The tires on your RV are one of the more precious items you have – they carry the RV from one destination to the next, after all! So you want to make sure they stay in tip-top shape. Your tires will eventually lose air and you may even get a flat every once in a while. In most cases, you can fix this on the fly with a handy tire gauge and air compressor. Even in the middle of nowhere you can check the air in your tires and give them some air, if needed. This is also true if you're bringing bikes along.
RV GPS
Nowadays, your smart phone will have a GPS. But an RV GPS has the added bonus of giving you the best routes for your RV. After entering your RV's length and height, it will suggest routes that don't have low clearance tunnels or narrow roads. An RV GPS also makes a great gift for novice RVers!
RV Mattress
Mattresses are a very personal thing (you've heard of the sleep number?) Most RVs come with low-grade mattresses that are hard or just not suitable for sleeping in every night. Retailers such as Camping World have a wide variety of mattresses to suit your style.
Water Pressure Regulator
Different campgrounds have different types of water hookups, so having a water pressure regular is essential. It will give your RV the right type of water pressure and won't overload your pipes, causing damage as it is fed through the freshwater hose.
Instant Pot
This makes meal preparation so much easier! And great for tight spaces such as your RV. There are a staggering variety of recipes you can whip up with an instant pot. It's also great for simple tasks such as cooking dried beans in less time and making hard-boiled eggs in half the time.
RV Water Filter
Some RVs come with an inline water filter, but if yours doesn't, it is a must-have. It's great to have if the campground you're staying at does not have filtered water. You can drink right from the tap. This also saves on having to buy bottled water, which as we all know, is good for the planet.
Portable Grill
Cooking over a grill is one of the joys of camping. No matter if you are a meat-eater, vegan, or anything in between, the flavor a grill gives your food cannot be beaten. There are some great portable full-size models out there that fold up and travel easily.