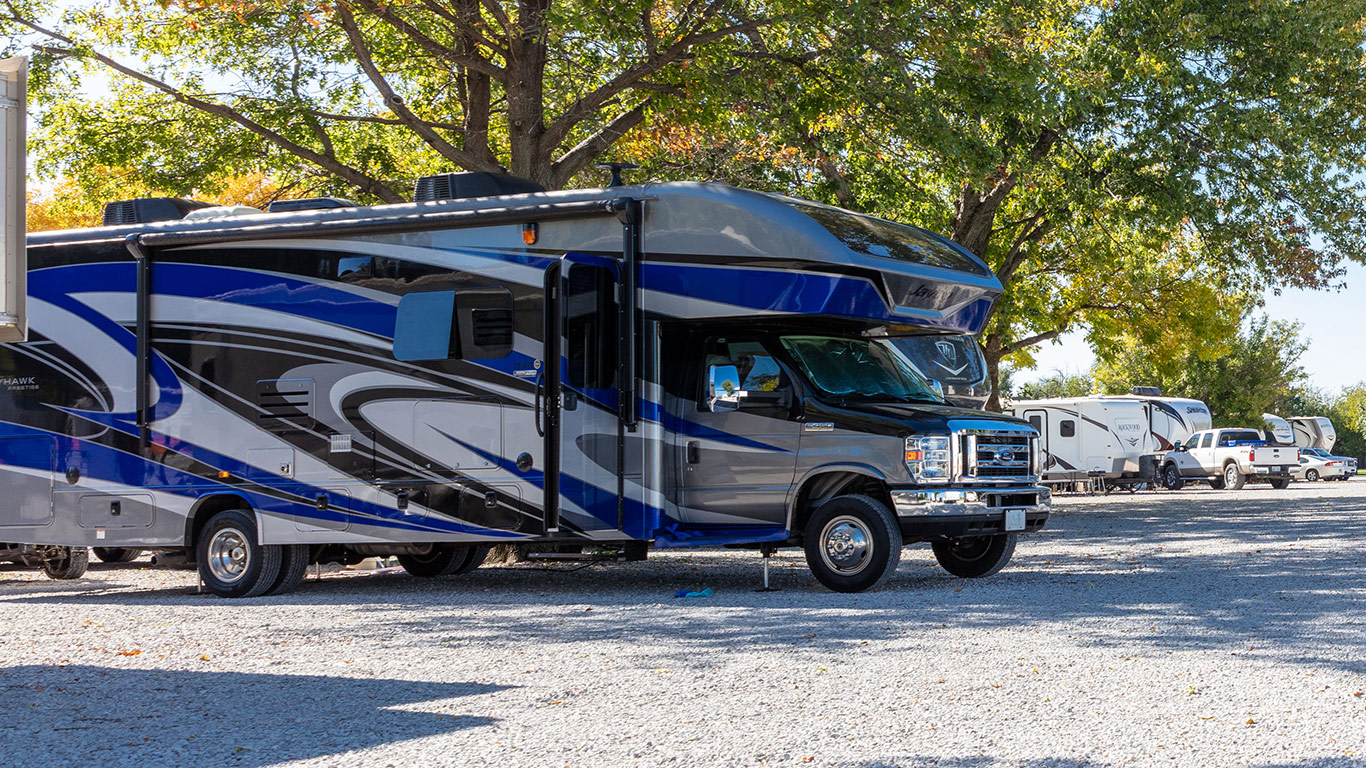 Whether you have just taken possession of your brand new (or new to you) RV or have had it for a while and you feel it needs a refresh, we've got you covered with some great ideas for easy upgrades. They are DIY (you don't need a professional to do it), give your RV a personal touch, and are easy on the wallet.
LED Lighting
Not only do a good set of LED lights look nice, they are energy efficient. It can also save on battery power of your RV by using fewer amps than regular incandescent or fluorescent lights. Use them for both interior and exterior lighting, and also for inside storage compartments, where you'll be able to find things in the dark, no problem. LED lighting gives your outdoor spaces a neat look with brightness and color options to suit any rig.
Vertical Storage
In RV life, space always seems to be an issue. Setting up a vertical storage system is the best way to remodel your RV's interior to make more room for the stuff you need. Shelves are easy to install and make for convenient organization. Hooks, cubbies, and rods are also useful for maximizing storage capacity. Little touches such as an over-the-cupboard door paper towel holder, or bins and baskets for holding toiletries and other necessities. Use those sticky Command hooks throughout your RV to hold items such as towels, jackets, etc. The hooks go on and come off easily without the need to drill holes.
Your TV Entertainment System
Just because you're camping does not mean you have to rough it in the digital entertainment department. Give your RV's TV a boost in reception by installing a digital TV signal booster. It can be installed in minutes and can be connected to an existing antenna. If you haven't already done so, take that flat screen and save counter space by installing a TV wall mount. Choose one that is sturdy, can withstand the rigors of RV travel, and that have swivel, drop-down, and horizontal sliding components.
Then complete the entertainment package by getting an all-in-one sound and entertainment system. These days, you can control everything from an app on your phone, and some systems are even climate- and vibration-smart, accounting for the rigors of RV life.
Surveillance Systems and Backup Cameras
Since owning an RV is such an investment, many people opt for installing a security system. Wireless backup cameras and surveillance systems with the ability to monitor the entire perimeter of your RV are available in many different forms in the marketplace. You can go basic with a simple camera, or go all out with several bells and whistles. A backup camera is great for navigating those tight RV camping spots!
The Almighty Shower
Many RVers feel that the all-important shower is one of the best things they like about their RV. Expand the space in your tiny RV bathroom with an expandable shower rod that bows out, allowing you more room to enjoy your hot water time.
In addition, upgrade your showerhead by replacing the ho-hum standard RV showerhead for one with a pull-down or low-flow showerhead with an on/off switch to help preserve water. While you're at it, replace your sink faucets with more attractive and modern styles.
Portable Wi-Fi
As more people make the switch to the full-time RV lifestyle, having internet access to make a living by "working from home" is becoming a necessity. You can do this in your RV and stay constantly connected with portable Wi-Fi connection and Wi-Fi extenders with 4G LTE data plans. Check with your current provider to see if they offer this. If not, most major internet providers do. It is simple to set up and secure and has parental controls to protect the kiddos. Avoid dead zones and reliance on other wi-fi systems while in your RV!
Holding Tank Monitoring System
Speaking of water flow, in an RV it's important to keep on top of how much water or waste you have in your gray/black holding tanks. Not enough fresh water and you don't get that nice shower or water to drink/cook with. Too much in your waste tank and you risk a nasty backup. Install a monitoring system to let you know the levels of each tank. Many RVers complain that the systems that come with the RV are not accurate, so upgrade to a better one with a sensor that accurately reads the levels.
Decorative Touches to the Interior
Here is where you get to play interior designer. There are many little things you can do to dramatically spruce up the look of your RV and make it so much more inviting. Browse through a few interior design magazines, there are even a few dedicated to RVs, to get some ideas. Then go to town with repainting or papering the walls (use a primer if painting).
Use sheer curtains to let in more light, coupled with blackout blinds for when you need to banish the outside lights. Add decorative seat covers, accent pillows, and decorative wall items that suit your tastes and aesthetic.
In the kitchen area, new countertops can be expensive to replace and may require a professional to install. Instead, add a classy backsplash. It's simpler and is a surprising way to spruce up the kitchen area. Backsplashes come in a wide variety of materials and can be installed with simple adhesive in a couple of hours.