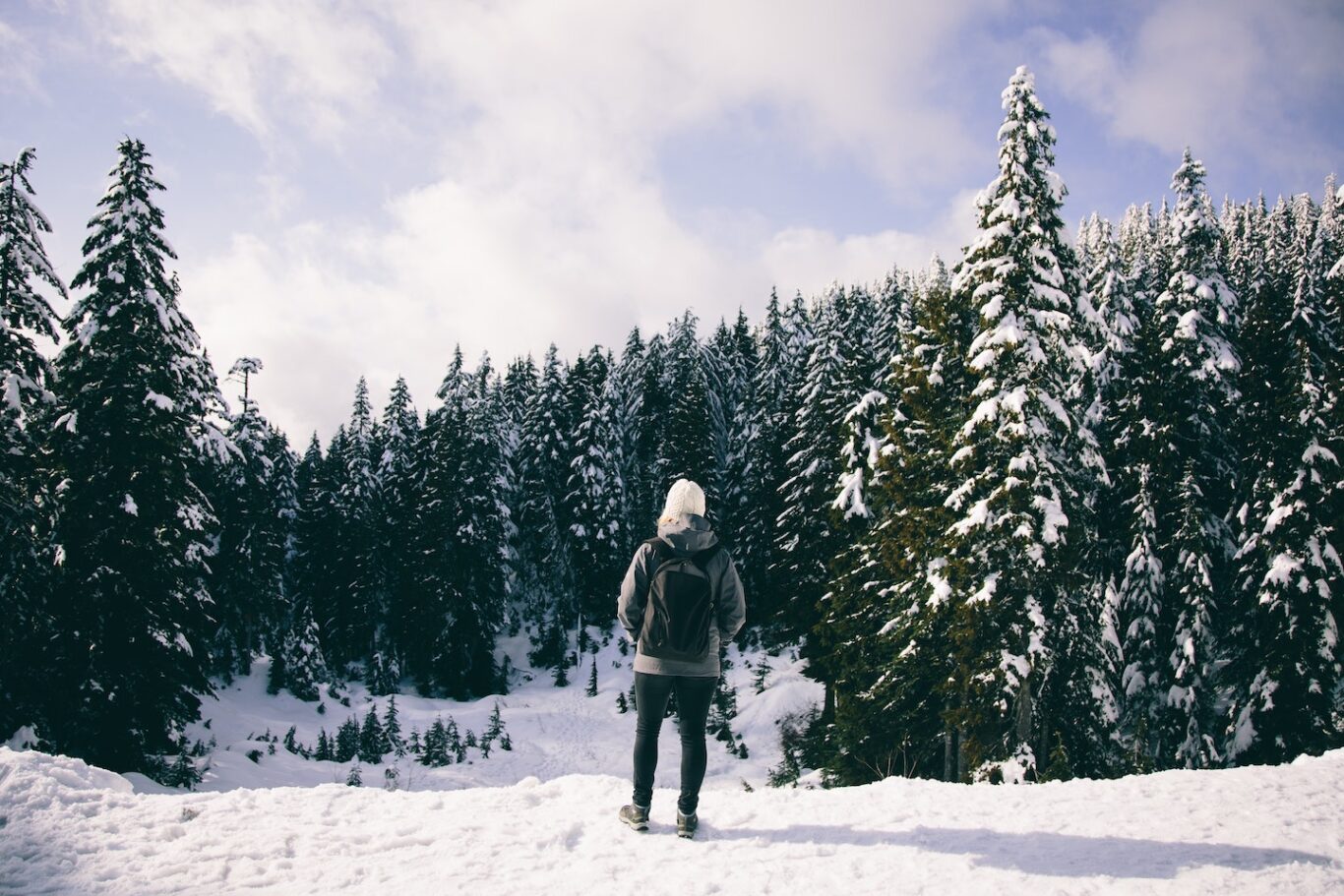 The heat of summer is over, the crowds are gone. Time for some serious exploring in the outdoors! But the weather is getting chillier, and if you don't hurry, many hiking trails will close due to snow or other inclement weather.
That doesn't mean your chances of getting out and hitting the trail should be dampened. With a little preparation, you can still have an amazing time hiking the outdoors, even when the weather doesn't cooperate.
Stay Warm
Seem obvious? Hear us out. Come fall and winter, even when the sun is out and it seems warm during midday, this is the time of year when the weather can change quickly and temperatures can plummet. Depending on where you are and your elevation on the trail, it's best to dress in layers when hiking, especially this time of year, so you can peel off as necessary.
Snow and ice can be a common occurrence, and the shorter days mean there's less time to spend outside. Solid hiking boots with good traction are a must for slippery ground. Also bring gloves, warm hats, thermal layers, more socks than you think you'll need, and a waterproof coat.
Do a Test Run
Before you plan that long sojourn into a National Park or campground during the colder months, try a weekend hiking/camping trip closer to home first. Go on a cold-weather hike using the gear mentioned above so you know you're prepared. It'll help prepare you both physically and mentally, so you know what to expect, and you can make the necessary changes to prepare you for your "real" trip.
It's All in the Planning
You've got your daypack full of food, water, extra gloves, socks, and other layers. What else? Check and double-check the weather forecast in the days before you set off. Make sure you've got all the gear you'll need. We love to pack minimally, but in this case, overpacking just a tad is much better than underpacking. When hiking a designated trail, it also helps to call the ranger or visitor's center ahead of time to get the exact conditions before you start hiking. Some roads and trails may well be closed.
Camp in Comfort
If you're in an RV, you've probably already got all the necessities. But if you're tent camping, during the colder months you'll need a sturdy all-weather tent, with double-layer, waterproof tent doors, and a tarp to cover your tent in case of blustery winds. If you don't already have one, invest in a high-quality sleeping bag designed for colder temps, and extra bedding.
Treat Yourself
Being out in cold weather means your body will naturally work overtime to keep your inner temperature regulated. The good news for you is that this process burns more calories, fat, and carbs in order to maintain your energy level – which means you can eat a bit more! When buying food supplies for your trip, load up on tasty, healthy snacks like trail mix and dark chocolate. Eat hearty meals like chili, stews, and stacked sandwiches. Just steer clear of sugar bombs such as cake and candy – empty calories that will do nothing but give you a sugar crash.
Stay Dry
Nothing spells 'miserable' like being inside a wet tent, or soggy clothes on a hike. Not only that, but coupled with lower temps and you run the very real risk of hypothermia. In areas with snow, it's something that can sneak up on you when you're not expecting it. Be prepared with extra warm clothing and water-proof layers for literally everything. Clothes, bags, gear, and tent. Any material that absorbs water, such as cotton, is NOT your friend on the trail or at camp.
Keep Your Gear Dry, Too!
As we all know, electronic devices do not fare well in wet conditions. These days, we tend to rely quite heavily on our phones, cameras, and especially GPS when outdoors. When out exploring, keep your tech gear warm and dry by securely storing them in a pocket or waterproof sealed bag to keep precipitation from seeping in.